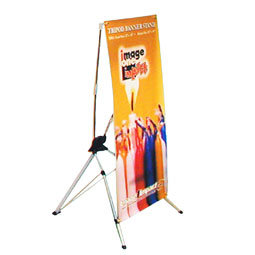 When a client comes into your shop looking to add some "P-O-P" to store displays, you probably have many point-of-purchase options to offer them. Now thanks to new products and materials, those point-of-purchase (P-O-P) offerings are expanding.
And the appearance isn't the only thing that's changing—P-O-P signs are also breaking out of retail stores and into places like boardrooms and outdoor events, which can benefit from the branding this type of signage provides.
This article checks in with related manufacturers about what's trending with point-of-purchase signage and what end-users are looking for in using it.
What's Trending?
It's difficult to trump the traditional when it comes to P-O-P, and banner stands and card/sign holders are still popular with customers.
But the consensus seems to be that, no matter the form, size is key in attracting attention.
"It seems people want a bigger message for their P-O-P," says Jim Siesennop, director of Sourcing & New Product Development at Creative Banner Assemblies. "A lot of people are buying full-size retractable banner stands that can go all the way down to a height of thirty-six inches with a telescopic pole. So they put those on tabletops and use them as P-O-P as well."
And if a P-O-P sign isn't big, then it should be close to the consumer. "We are seeing a strong push to have P-O-P displays that get to the customer first," says Dave Harris, vice president/general manager of ImageOne Impact. "This means going out to the street or storefront to attract the masses.
"Motion and big, bold color are trending strong with buyers of promotions."
One way P-O-P can attract with big and bold images is through fabric signage, which offers bright colors and a high-end look that is appealing to more and more clients.
Part of that growing appeal with fabric also has to do with shipping costs. "It's easily transportable. The fabrics are lighter, and you can fold them up, put them in a small FedEx® box, and ship them to the different stores," says Joseph Terramagra, Business Development manager at REXframe™. "And it looks a little bit more upscale. People are trying to change their image to a more upscale image.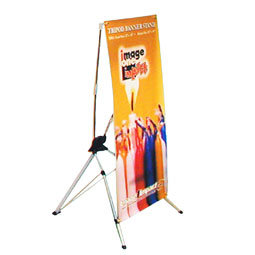 "They're trying to think about what's going to attract people—what's going to make people want to gravitate toward that display unit or that sales unit."
The use of LED lighting is another technique that draws people toward a P-O-P display. "You see a lot of that now when you're coming into any kind of retail store that wants to really 'pop' something out at you," says Mike Sauter, sales representative for Outwater Plastics Industries, Inc. + Architectural Products by Outwater, LLC.
Often more permanent installations make use of LEDs, such as lightboxes or even standoffs (in the case of Outwater's LED-integrated standoffs). "When you have a lit point-of-purchase piece versus just a plain piece that's not lit, [lighting] gives it that sizzle," says Sauter.
Change Your Perspective
Knowing whether clients want permanent or modular installations is also important, as it affects what type of systems they will need.
A more permanent signage option can also lead to new sales opportunities just by flipping it horizontally.
For example, hang suspended signs horizontally and you can offer clients a unique shelving system—especially if you use the right material. "To me, retailers seem to be looking to do hip stuff with clean lines," says Sauter. "So if you're using acrylic or glass, it's not busy. It's showing whatever it is you want to show."
Similarly standoffs aren't solely for mounting sign blanks to a wall.
Turn the blanks horizontal and they can be stood off a surface as a shelf or display unit. Even lit panels for backlighting can serve as illuminated shelving.
Turn your perspective around, and you can offer your clients new ideas and new solutions from products you may already be selling. You can also offer hardware that is required to hang or mount the signs—especially on custom jobs that may require a unique installation solution.
Graphics Protection
When providing P-O-P signage, it's also important to consider how to properly protect graphics from wear and tear. This signage is usually within reach of pedestrians, so the potential for damage is greater.
"When close enough to touch, pay attention to the durability of the substrate and the working mechanical parts, as they can break and deem the entire P-O-P display ineffective and leave a negative impression that can hurt the brand just as quickly," says Harris. "Depending on the substrate or medias used, protective laminates and special cleaners are needed—and need to be included in the instructions and cost of the P-O-P effort."
Laminates often extend the life of the graphics, as well. "Looking at P-O-P, most people want something that prints photo quality," says Siesennop. "So a lot of people have real high-res aqueous inkjet printers that will do that. But if you're going to print on aqueous inkjet, we highly recommend that you put a polyester overlaminate on it.
"Most print shops that do a lot of laminating will use thermal overlaminates—and that usually is the best result, plus you can do more laminating faster than a cold lam."
However when it comes to fabric, graphics lamination is not recommended because it eliminates the unique fabric texture, which is why most people choose this media in the first place.
Instead Siesennop advises to use dye-sublimation on fabric prints so they'll last longer. "If you want more of a permanent solution with fabric, dye-sublimation is the way to go," he says. "We usually recommend the heat transfer type of dye-sublimation where you print on the paper and then transfer it over, since you can control your color a little bit better and the detail is better."
Rod Pete, CFO of REXframe, adds that caring for the graphics as you would a piece of clothing also helps extend the life. "As long as you look after it, it'll last as long as a normal shirt would," he says. "You can just put it in the washing machine and put it back up."
Importance of Installation
The job isn't over once you provide the P-O-P system. Install plays a large role, and you should be sure your customer is comfortable with setting the display up.
Most P-O-P customers want a system that's easy for their employees to assemble and switch out. "This means it has to ship in an easy-to-open package and have simple instructions with pictures for the store employee that has no clue to still be able to set-up," says Harris.
REXframe is big on training its customers and dealers on all aspects of its P-O-P systems—from printing and graphics to finishing and set up. "If you know how to use it, and you're confident with the product, then your clients will go crazy with it," says Pete. "And it just takes a few training days on how to get the best out of it and, of course, how to sell it to your clients and get them to request it."
Even though installation is the last step, it should be your first consideration when talking to a customer.
Be sure your client is choosing the right P-O-P display and has space for it. "First determine where they want to put the display. Do they want to put it on a wall? Or on a countertop?" says Siesennop. "If they don't have the counter space or don't want to dedicate the space to it, you need to look at that too."
Fortunately the versatility of many P-O-P systems has allowed for installations beyond the usual countertop and aisle set ups. For example, wallpapers and floor graphics are now being used as P-O-P displays.
Fabrics are also allowing for unique displays through the use of frames (which the material is stretched over) and adhesive-backed options (which can be stuck onto any solid surface for temporary display).
"It comes down to what the client's imagination comes up with," says Pete. "They're already looking past the simple stage and going to the complex."
By Ashley Bray
Photos (from top to bottom): REXframe, ImageOne Impact, Outwater, Master Magnetics.