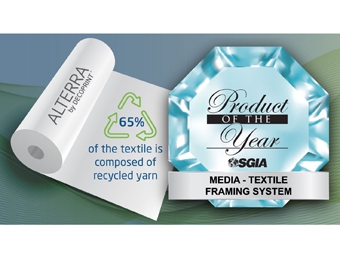 The eco-friendly ALTERRA fabric is woven using recycled fibers (65 percent of the textile is recycled), and then coated with SENFA's trademark smooth finish, ensuring stunning backlit graphics with all the necessary fire-retardancy certification.
With ALTERRA, SENFA has taken its award-winning DECOPRINT PEARL and integrated recycled fibers into the production process. Printers can use ALTERRA for backlit applications knowing that it has the same high quality technical specification as PEARL while using less non-renewable resources. SENFA-Decoprint will also be showcasing its flagship product, Decoprint PEARL, which is the perfect solution for shopping malls, international branded stores and airports. Additionally, for the first time in the USA, SENFA will introduce the SUBLIMIS range for backlit graphics using both transfer and direct disperse technologies.
The North American market is growing year on year and there is a clear trend towards printing on textiles. Because of the market potential, SENFA has employed a US-based National Sales Manager, Benjamin Westog, to better support the local market. Visitors to the SENFA-Decoprint booth will be able to view the full potential of textile printing – even with traditional non-textile technologies like UV-curing and latex printers. Benjamin Westog and the Decoprint Business Unit Director, Blaise Humphries, will be on the booth for the duration of the exhibition and invite visitors to come along and discover the full potential of textiles.
For more information, please visit: http://www.decoprint.eu/en/.