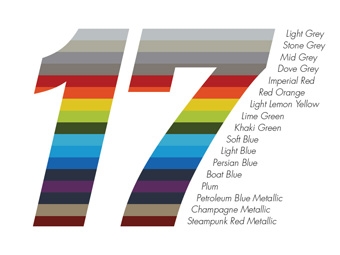 Gerber Technology, a worldwide leader in sign making and specialty graphics systems, is excited to announce the addition of seventeen new colors to the existing line of Gerber 220 High Performance cast vinyl manufactured by 3M. These new colors are available in fifteen- and thirty-inch widths. Extensive global research on color trends was conducted by 3M to arrive at the seventeen new colors being offered from Gerber.
"This addition to the existing color palette provides sign and graphics professionals with greater flexibility to express their creativity and vision," said Jay Dorman, director of global sales. "It also offers more options for their customers to meet specific color requirements."
Gerber 220 High Performance cast vinyl is designed specifically for optimal printing on the GERBER EDGE® printer and offers precision cutting and ease of weeding and application. As with the current array of 220 High Performance vinyl, the seventeen new colors have a clear pressure-sensitive adhesive that allows for two-way window markings and an exterior life span of up to eight years.
Visit www.gspinc.com/colorcard to order a color card with samples of these new colors and the full line of Gerber sign and graphic materials. For more information, contact Gerber Sales Support at 800/222-7446 or visit www.gerbertechnology.com/signage.