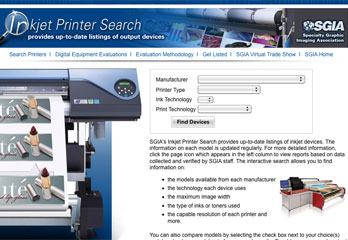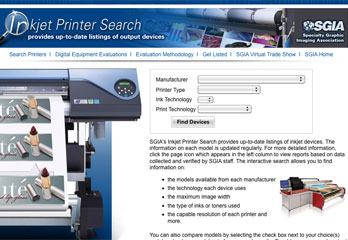 SGIA announces an enhanced way to stay well informed of inkjet and direct–to-garment printers currently on the market. The new Inkjet Printer Search (formerly the Wide Format Device List), allows users to choose manufacturers, printer types, ink technologies and print technologies from drop-down menus to access the following unbiased information:
Models available from each manufacturer
Technology each device uses
Maximum image width
The type of inks or toners used
The capable resolution of each printer and more
SGIA has also unveiled a new Printer Comparison Tool as part of the Inkjet Printer Search. Printers listed side-by-side gives users all the information they need at a glance.
Additionally, users can freely browse digital equipment evaluations, which provide raw, objective information about the latest digital equipment devices. Evaluation elements include print speeds, dimensions, printing resolutions, retail prices, and more. The information about each model is updated regularly to ensure accuracy.
In today's highly competitive market, objective product information is hard to come by. SGIA's new Inkjet Printer Search function is the easiest, most trustworthy way to obtain accurate, unbiased information about today's industry-leading equipment.
For more details about this resource, visit SGIA.org.
Be sure to catch these manufacturers on the show floor at the 2011 SGIA Expo (New Orleans, October 19-21), and preview all the exhibitors online at SGIA's Virtual Trade Show.