Marriott International has unveiled a host of modern upgrades to its Sheraton Dallas property, including two state-of-the-art digital video columns at the hotel's entrance. The custom-engineered, four-sided LED columns were manufactured by SNA Displays and feature an eye-catching modern digital art piece.
The digital displays and art installation were part of a multi-million-dollar renovation to the historic downtown Dallas hotel, a major refresh managed by The Chartres Lodging Group. Other upgrades by the San Francisco hotel investment and advisory firm include improved meeting and event spaces, enhanced and rebranded food and beverage services, and redesigns for most of the hotel's bathrooms, hallways, and guest rooms.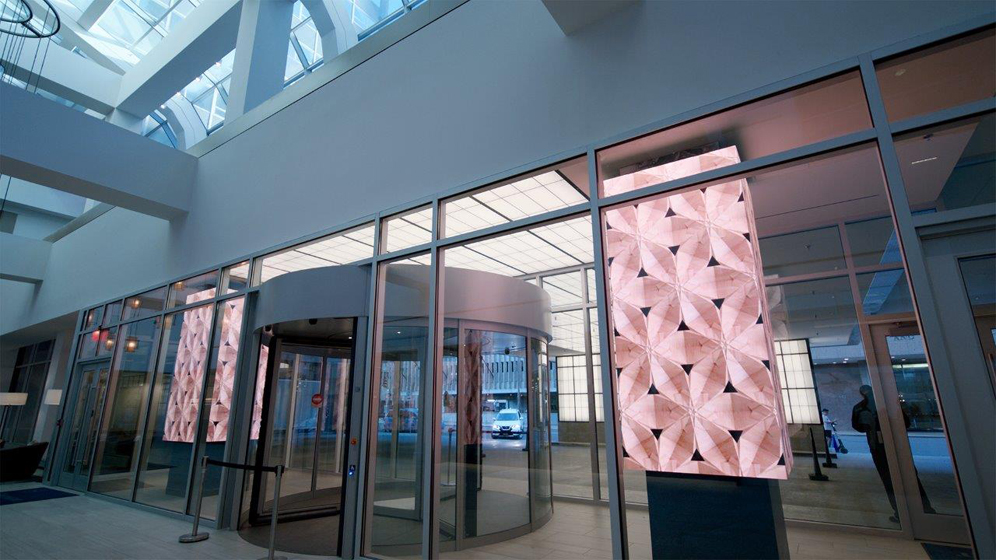 "The digital columns are a fantastic way to showcase the hotel's overall design theme of celebrating art, since we are at the intersection of the art district and Deep Ellum," said Maki Nakamura Bara, co-founder and president of The Chartres Lodging Group. "And to add movement, perspective, and technology just takes the theme to another level!"
SNA Displays was part of a multi-team collaboration for the Sheraton Dallas project, including Prism Electric's Technology Division (which managed the display installation) and Leftchannel (the content design studio that created the digital art piece and will be responsible for refreshing content for the new video screens).
The LED columns mirror each other on either side of the Sheraton's circle-drive entrance at 400 N. Olive St., just across the street from The International Conference and Exposition Center. The columns are wrapped in LED display technology, and because screens are surrounded by floor-to-ceiling windows, visitors can view the art content from the street, the entrance itself, or inside the lobby.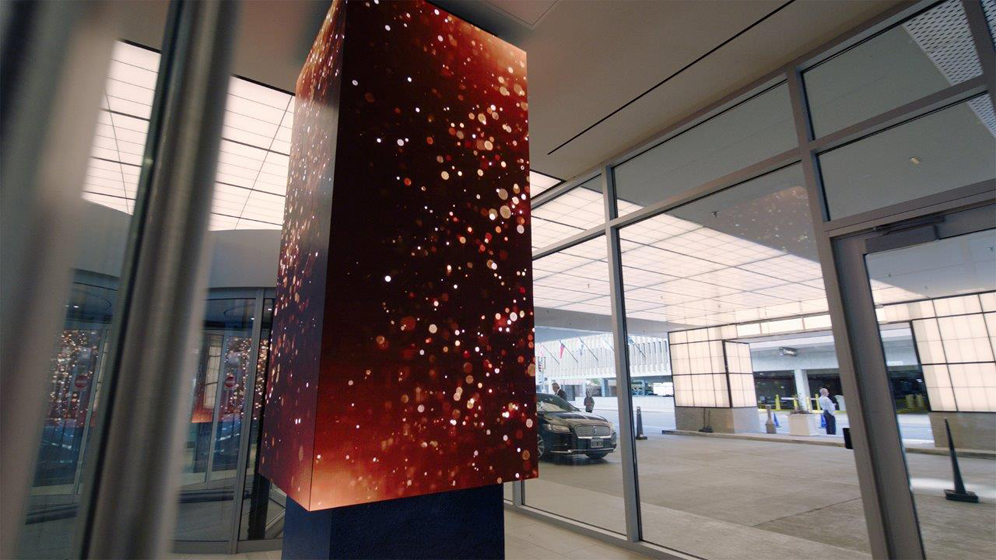 SNA Displays provided a 2.5 mm pixel pitch product from its interior BOLD™ display series, meaning the distance between the center of each pixel to an adjacent pixel is only 2.5 millimeters (or a tenth of an inch). Each of the eight faces measures 8-feet-10-inches high and 3-feet-11-inches wide and includes 1,080 pixels-by-480 pixels. In total, the columns contain more than two million pixels.
"I receive so many amazing comments about the installation, and it has a lasting impression on our customers," said Bara. "They will not forget the hotel because of it!"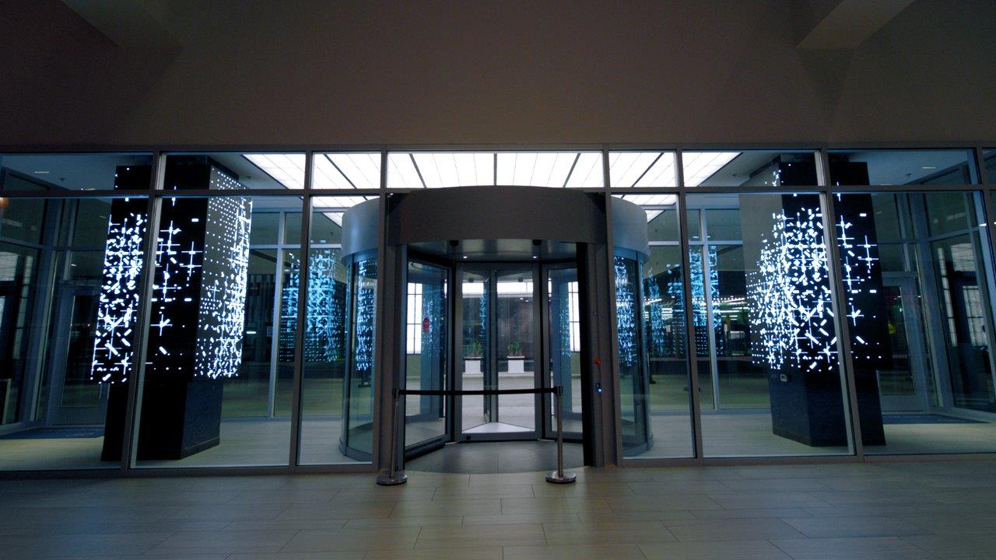 SNA Displays' project management team was onsite for the duration of the installation, working primarily with Prism Electric's team. "This was a great collaboration with all of the teams involved on this project," said Nick Gioia, project manager for SNA Displays. "In particular, we developed a great rapport with the Prism team, which was very hands-on throughout the installation process. They were willing to do what was necessary to get the display technology installed and the CMS equipment commissioned in a timely manner."
For video and more information on the LED video columns at Sheraton Dallas Hotel, visit www.snadisplays.com/projects/sheraton-dallas-hotel-led-video-columns.
About Sansi North America (SNA) Displays
SNA Displays is focused on bringing its clients' creative visions to life. Established in 1993, Sansi is one of the world's largest manufacturers of LED products, utilizing more than 2 million square feet of manufacturing space and owning more than 250 patents.
In North America, SNA Displays is headquartered in New York City's historic Times Square and has worked with clients to create and build some of the largest and most recognizable outdoor and indoor LED spectaculars in the industry. Discover more about how Dreams Live Digitally® at www.snadisplays.com.
About Prism Electric, Inc.
Prism Electric is an electrical contractor with offices in Texas and Oklahoma employing skilled managers, estimators, superintendents, tradesmen and support staff. Prism's experience has grown from the highly complex healthcare industry to include commercial, industrial, institutional and high tech industries. For more details, visit http://prismelectric.com/.
About Leftchannel
Leftchannel is a content design studio with a global presence. For nearly twenty years, they have specialized in getting people to pay attention in a very noisy world. For more information, visit http://leftchannel.com/.
—Press Release