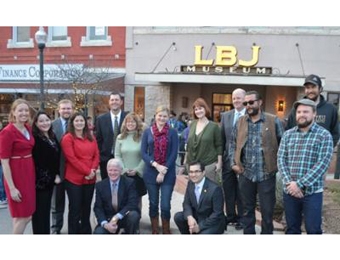 On January 12, Blackout Signs and Metalworks, an award-winning sign design and fabrication shop based in San Marcos, proudly unveiled its latest signage project during the lighting ceremony for the city's newest landmark sign at the LBJ Museum, a non-profit museum with artifacts and exhibits focusing on the formative years and presidency of the country's thirty-sixth president.
The custom sign is the culmination of a six-month collaboration with Leadership San Marcos, the LBJ Museum board of directors, and city staff from Planning and Development Services. The museum is located at 131 N. Guadalupe Street, on the square in downtown San Marcos.
Approached by Leadership San Marcos to design and build the museum sign in April 2013, Blackout Signs worked with the museum's board of directors and Leadership San Marcos on the design process spearheaded by Blackout Owner Jay Gordon and Lead Designer Gabriel Hedrick. Final sign design was approved in November and then fabricated over an eight-week period by Gordon, Sean Holton, and Jason Mathis.
The sign features classic sign techniques—including exposed gold neon and a blended crushed glass (osmalto) background. Hand-formed and welded dimensional letters interior lit with color-changing LED lighting feature prominently as well. Vintage fence posts sourced from a trip to the LBJ ranch were added to create a border, as well as old farm implement pieces repurposed as decorative elements capping the corners of the sign.
Funding for the project came from grants, donations from local businesses, as well as Blackout donating the concepting, design, and meeting costs.
Led by artist and fabricator Jay Gordon, Blackout Signs and Metalworks designs and builds one-of-a-kind signs and sculptures for businesses throughout Texas and national festivals. Blackout staff refers to their work as "handmade in the shade" and is the go-to shop for imaginative, innovative work. Embracing an old-school work ethic of craftsmanship and solid design, all work is done by hand without the aid of computer-controlled equipment that is prevalent in the sign and fabrication industry today.
Materials for the sign were sourced from local businesses (San Marcos area) and include Hoffmans Supply, Tuttle Lumber, Big Dog Neon, N. Glantz Sign Supply, Ash and Associates, LBJ Ranch, and Crippen sheet metal.
To view a YouTube™ video of the sign's creation, visit http://bit.ly/1eyyBKO.