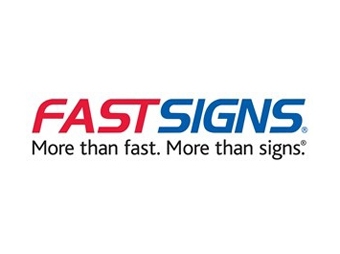 With ever-changing technology and shift in consumer demand, the print industry is consistently looking for ways to grow and evolve. Recognizing print shop owners' needs to diversify their offerings, FASTSIGNS International, Inc.—the worldwide franchisor of more than 570 FASTSIGNS® sign, graphics and visual communications centers in nine countries—will be exhibiting at the National Print Owners Association (NPOA) third annual Owners Conference to discuss its successful Co-Brand franchise program.
Taking place April 16-18, 2015, the NPOA Spring Owners Conference is held with the purpose of supplying business owners with information regarding profitability, sales, marketing and other relevant topics. FASTSIGNS—a gold level sponsor of the event—will be available to provide independent business owners with tangible growth and expansion options. The company's Co-Brand franchise program allows independent print operators to continue running their existing business, while also offering expanded services and benefitting from ongoing support and guidance from FASTSIGNS.
"Our Co-Brand franchise partners gain the ability to increase their bottom line by adding new service offerings while still remaining in control of the direction and vision of their independently-owned business," said Mark Jameson, Executive Vice President of Franchise Support and Development at FASTSIGNS International, Inc. "Diversifying service offerings through our franchise opportunity allows independent print owners to attract a new customer base, increase their value to existing clients and enjoy the benefits of being part of a national franchise system."
Since the program's launch in 2012, many independent print operators have found incredible success partnering with FASTSIGNS. Co-Brand franchise partner Dick Helmey, who owns FASTSIGNS of Houston, TX – University – East End, said, "FASTSIGNS made the whole idea of new product opportunities and new solutions come alive for our current clients. Their Co-Brand program has also opened the door to several new resources that were previously unavailable to us, such as training, research, and support for new products and general operations."
Independent business owners can join FASTSIGNS through its Co-Brand program for as little as $10,000 down in addition to reduced royalties. Co-Brand partners also enjoy the latest technology, cost savings through relationships with national vendors and suppliers, comprehensive marketing and visual communications solutions and the benefits that come from networking with FASTSIGNS centers worldwide.
FASTSIGNS is continuously recognized for its franchisee satisfaction and was named one of the inaugural inductees into the Franchise Business Review Hall of Fame for ten consecutive years of outstanding franchisee support. The company's franchisee support was also recently recognized by the Franchise Research Institute®, which certified FASTSIGNS as a World-Class Franchise® for the fourth year in a row.
For more information about the FASTSIGNS Co-Brand program, contact Mark Jameson at [email protected] or call 214/346-5679.