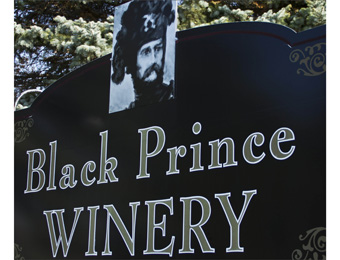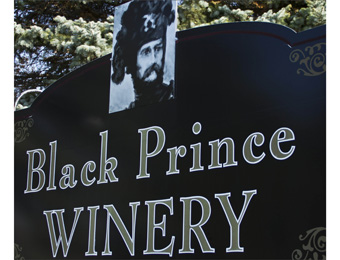 When Sarah Toupin decided to go into business for herself in 2012, she wanted to use her artistic talents to fulfill a unique business niche in eastern Ontario. Trained in administrative finance and interior design, she was also an avid photographer and thought she could combine these talents to provide promotional signage for the local business community.
"In the business-to-business market segment, there's always a need for advertising and signage," said Toupin, president of Kingston, Ontario-based Sarah Toupin Inc.
But it was her selection of substrates that would set her apart from other signage providers in an area that is hit with some pretty severe Canadian climate conditions, including lake-effect wind and snowfall from Lake Ontario.
"I wanted a material that would be very unique," said Toupin, who said she "stumbled upon" aluminum composite material. "I got to know Dibond® and just loved the quality. Its outdoor capabilities would allow it to withstand fluctuations in our weather. I loved Dibond's light weight yet sturdiness. I knew it could withstand the wind and snow bouncing off signs. It also offered several fabrication options, including straight cutting, rounding the material and forming it into three-dimensional shapes."
(Note: Dibond by 3A Composites USA is a rigid, durable aluminum composite material consisting of two pre-painted sheets of .012-inch aluminum bonded to a solid polyethylene core—a unique composition that makes it approximately one-half the weight of aluminum. Dibond is available in twelve standard colors, including six metallic shades. Dibond is stocked in sheet sizes ranging from 48-by-96 inches to 60-by-120-inches and in thicknesses ranging from 2mm to 4mm.)
According to Toupin, discovering Dibond and its manufacturing and printing processes allowed her to push her small business plan. "I wanted to become an expert in outdoor signage," she said, whose company is focused on providing premium quality outdoor art and signage.
Toupin landed her first business-to-business job in September 2012, when she was hired by the Black Prince Winery in Picton, Ontario, to update the image of its royal namesake on the winery's outdoor monument signage.
The Black Prince Winery, a twelve-year-old winery located in Ontario's Prince Edward County, is named after the Black Prince, the eldest son of England's King Edward III, who also was named Edward but died before his father. The Black Prince disguised himself in battle by wearing black armor. An image of the Black Prince created from a portrait was positioned atop the winery's monument signage. The Black Prince also graces the labels of the winery's bottled offerings.
"When [Toupin] came across our sign, the prince was looking dreadful; he was fading and peeling," said Geoff Webb, principal/general manager, the Black Prince Winery, of the previous image painted on metal. "The sign had lasted through ten Canadian winters but had taken a beating. It wasn't nearly as good as what we've got now."
Toupin used Adobe® Illustrator® software to manipulate the winery's high-resolution PDF file of the prince's image, which was digitally direct-printed with an Océ Arizona GT 350 UV flatbed printer onto a sheet of Dibond in the Brushed Silver color and the 3mm thickness. The 18-by-24-inch sign featuring the image of the Black Prince was cut with a CNC router.
Black Prince Winery personnel installed the new Dibond sign directly over the fading image of the prince. (Note: Toupin also offers installation services with stainless steel standoffs.)
"The faded pocked-mark prince was covered over with the beautiful shining prince that you see now," said Webb. "He went from ugly one day to a great example of his former self the next. I'd definitely use this product again.
"We were very happy with the service and product that Sarah provided. It all worked out well. The sign has withstood our winter weather very well. We expect this sign to be as good as the last one if not better."
In December 2012, Toupin expanded her outdoor offerings to include circular holiday tree and door ornaments in the three-inch, five-inch, and seven-inch diameters—featuring both English and French greetings printed on 3mm Dibond in the Brushed Silver color and targeted to meet the seasonal home décor needs of the mass-market consumer.
"I started selling these ornaments for the 2012 Christmas season but soon realized that they weren't just for Christmas," said Toupin, who now offers a variety of seasonal and year-round ornament and door décor sold via her online Etsy store.
Her latest consumer offerings—eye-catching, colorful garden stakes printed on 3mm thick Dibond in the Brushed Silver color—were unveiled at the Sarah Toupin Inc. Booth at the National Home Show & Canada Blooms held this past March 15-24 at the Direct Energy Centre in Toronto.
—Press Release