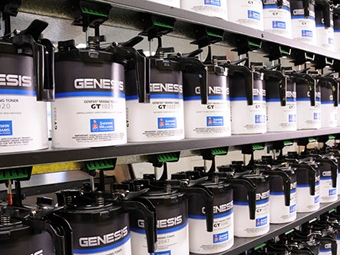 Sherwin-Williams Automotive Finishes' line of Genesis paint products helps sign manufacturers get the job done right.
Sherwin-Williams Genesis HP Premium Single-Stage Topcoat System
Genesis® HP Premium Single-Stage from Sherwin-Williams Automotive Finishes is a two-component urethane topcoat. This technology provides both automotive painters and now sign manufacturers with quicker paint process times with no baking required.
Genesis HP Topcoat System allows sign paint shops to turn down the heat to increase energy savings and improve production times. With Genesis HP Topcoat System, sign shops can go from prime to finished sign products up to 65 percent faster, and save more than 75 percent on energy costs related to the paint process.
Thanks to Sherwin-Williams' proprietary Air-Dry Technology, Genesis HP Topcoat cures in ambient temperatures (70 to 75 degrees). Not only does the elimination of high-heat bake cycles reduce a sign manufacturer's paint shop energy requirements, it also helps them meet the tightest timeline.
Easy to mix and apply, Genesis HP Topcoat System provides other benefits to finished sign projects including: resistance to chipping in extreme conditions; excellent moisture, chemical, U.V. light and corrosion resistance; and outstanding retention of color and gloss levels.
For more information about Genesis HP Topcoat System for sign manufacturers visit our website, watch the video or call 1-800-798-5872.
Sherwin-Williams Genesis® G4 Basecoat Clearcoat System
The Genesis® G4 Basecoat Clearcoat System from Sherwin-Williams Automotive Finishes is formulated to provide outstanding performance and enhanced color match capability for fabricators and painters in the sign industry.
This premium quality, two-component, 3.5 lbs. per gallon VOC compliant urethane basecoat delivers excellent appearance with durability and superior flexibility over most properly prepared sign substrates. This system offers fast dry times, which results in more rapid paint production. This allows sign manufacturers and fabricators to turn around more projects with less time in the paint shop. Genesis® G4 Basecoat may be recoated after five minutes and up to seven days without sanding or scuffing with a 10 minute dry time for clearcoat application. It is resistant to exterior wear factors like paint chipping, corrosion, UV exposure, and cleaning chemicals and solvents, even in most types of extreme outdoor conditions.
"Genesis® G4 Basecoat Clearcoat System is designed for sign manufacturers looking for a long-lasting, premium finish," says Sherwin-Williams Fleet & Manufacturing Product Manager Dan Szczepanik. "G4 is also conducive to high and middle-end production sign shops that are looking for an easy-to-apply and mix, highly durable system that provides finished sign products with vibrant color, superior texture and exceptional visual appeal."
For more information about the new Genesis® G4 Basecoat, its features, advantages and benefits visit our website; or call 1-800-SWULTRA (1-800-798-5872).