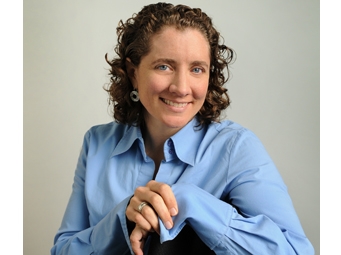 Maggie Harlow, owner of SIGNARAMA Downtown in Louisville, Ky., received the first-ever Sam Swope Humanitarian Award. The honor was presented during the March 4 EPIC Awards program, sponsored by the Louisville chapter of the National Association of Women Business Owners (NAWBO).
In presenting the award, Patti Swope, board chairman of Sam Swope Auto Group, said, "Through her actions, Maggie Harlow has demonstrated her passion for making Louisville a better place to live."
Among Harlow's community contributions is this year's Signs of Support program, held annually by the Louisville company. Through the grant program, sixteen Louisville-area nonprofit organizations are receiving free or discounted signage or services, valued at nearly $14,000.
Harlow is active in the Louisville business community and has served as president of NAWBO Louisville. She is also active in Greater Louisville Inc. and the Better Business Bureau and supports many networking organizations.
She has been named a "Louisville Connector" through the Leadership Louisville Connector Project. She was also a finalist in the business-owner category in Today's Woman magazine's "Most Admired" competition. In 2011 SIGNARAMA Downtown was selected as a finalist for both the Better Business Bureau Torch Award for Workplace Ethics and the Republic Bank "We Care" Award. This year she was a finalist in NAWBO Louisville's EPIC program, celebrating outstanding women business owners.
"It is a reflection of my family's values to give back to the community through my business efforts," said Maggie Harlow, owner of SIGNARAMA Downtown in Louisville, KY. "I'm not a millionaire and can't make a giant impact, but with a little giving back each year, I hope the cumulative effect is a good one."
Maggie, along with her husband, Brian Harlow, initiated Signs of Support in 2006 as a way to give back to those organizations that have the highest impact on the Louisville community and its culture. "When we learn about the work these organizations give, we are inspired and humbled. So much incredible work happens quietly among unsung heroes in our community," she said.
Signs of Support 2014 recipients:
· American Heart Association
· Big Brothers Big Sisters of KYANA
· Dreams With Wings
· Father Maloney's Boys' Haven, Inc.
· Hats for Hope
· Home of the Aged of the Little Sisters of the Poor, Inc.
· Home of the Innocents – Village Pharmacy
· Jefferson County Master Gardener Association, Inc.
· Jewish Community of Louisville, Inc.
· Kentucky YMCA Youth Association
· Louisville Girls Leadership
· Maryhurst
· Susan G. Komen Louisville
· The Filson Historical Society
· Volunteers of America of Kentucky
· Westport Middle School