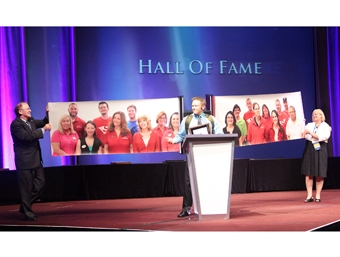 Signarama of Evansville (Indiana), a locally owned and operated sign and marketing firm, was honored recently at the United Franchise Group World Expo in Orlando, Florida. The four-day World Expo attracts owners from 900 Signarama locations and many countries.
Walter, Debbie, and Casey Valiant received recognition for marketing, record sales volume, and the highest achievement award bestowed on an owner, being inducted into the Signarama Hall of Fame.
This is a very humbling honor as it is the only award voted on by previous "Hall of Fame" inductees and presented by United Franchise Group CEO, Ray Titus. "This year's inductees, were a landslide," commented Titus as he presented the award to the Valiant family. "The Valiants are consistent high achievers who continually give back and support other owners, a well deserved distinction indeed."
The Valiants accepted the award unlike any other recipients before them, by creating a one of a kind, backpack that opened up on stage displaying the entire Signarama Evansville staff. The audience erupted with a standing ovation and applause. "We wanted our team to know that they are the ones who make things happen and they deserve to be honored as well, we would not be the business we are today if not for our amazing staff." Casey Valiant tells us.
Operating out of an 8,400-square foot manufacturing and showroom facility on Evansville's east side, Signarama provides businesses with creative graphic and signage solutions enabling clients to maximize their corporate branding and marketing efforts, whether a new sign to update a building, a new trade show booth, or vehicle graphics and wraps, Signarama can meet those needs.
Signarama Evansville, which includes the AmeriStamp division, is a veteran owned business and a 3M Certified Graphics Company. They have been serving tri-state business since 1957. Signarama is located at 1300 N. Royal Avenue at Vogel Avenue.
They can be contacted at 812/477-7763, twitter.com/signaramaEVV, and www.facebook.com/signaramaEVV.