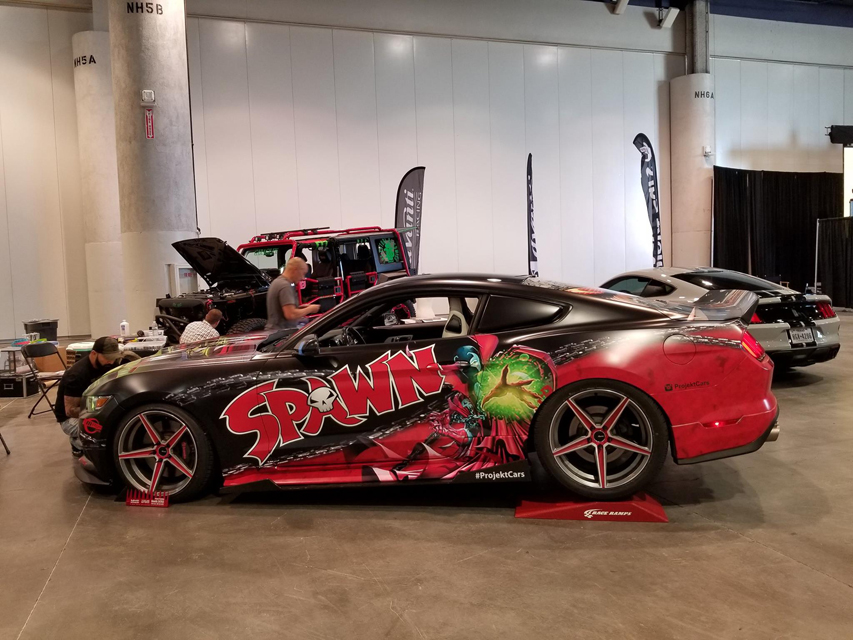 "We have built over 200 vehicles for booth displays at SEMA," says Projekt Cars Business Development Manager and Founder Carlos Molina.
They were also responsible for providing comic book-inspired cars that were on display at last summer's Amazing Las Vegas Comic Con, wowing fans and creators with their distinct appearance.
This project began two years ago when Molina met up with Guy Caldwell of Garage FX, a company that creates replica movie props, weapons, and costumes for cosplayers to use at comic book and fantasy conventions. Wanting to increase their exposure as well as demonstrate their capabilities, Molina and Caldwell had the idea to custom-modify a car for the annual Las Vegas event.
"Something like this had never been [attempted] at Amazing Las Vegas Comic Con," says Molina, "so organizers didn't know what to expect."
Molina and Caldwell decided to wrap a custom-modified Ford Mustang GT with graphics featuring the popular comic book character Spawn. Projekt Cars first approached its creator, Todd McFarlane, to receive permission to pursue this signature car piece.
McFarlane has made quite a name for himself throughout the comic book industry, drawing fame early on by illustrating characters such as the Hulk and Spider-Man (to name a few). He later co-founded Image Comics where his creator-owned character Spawn has developed quite a fervent following over the past twenty-five years.
Projekt Cars was thrilled when they eventually received permission from McFarlane to proceed. The Spawn creator was so excited that he personally hand-drew and supplied the digitized comic artwork used in the wrap design. "That was really special to us," says Molina.
The company had a couple of other partners in this project. For example, they sent McFarlane's files to Josh Daley at Daley Visual, a wrap specialist in Rancho Cucamonga, California, who implemented the artwork into the overall layout of the wrap.
In turn, Daley sent these high-resolution TIFF files to manufacturer Mutoh America in Phoenix where they used the Mutoh Edition of SAi's Flexi Sign & Print to output the graphics.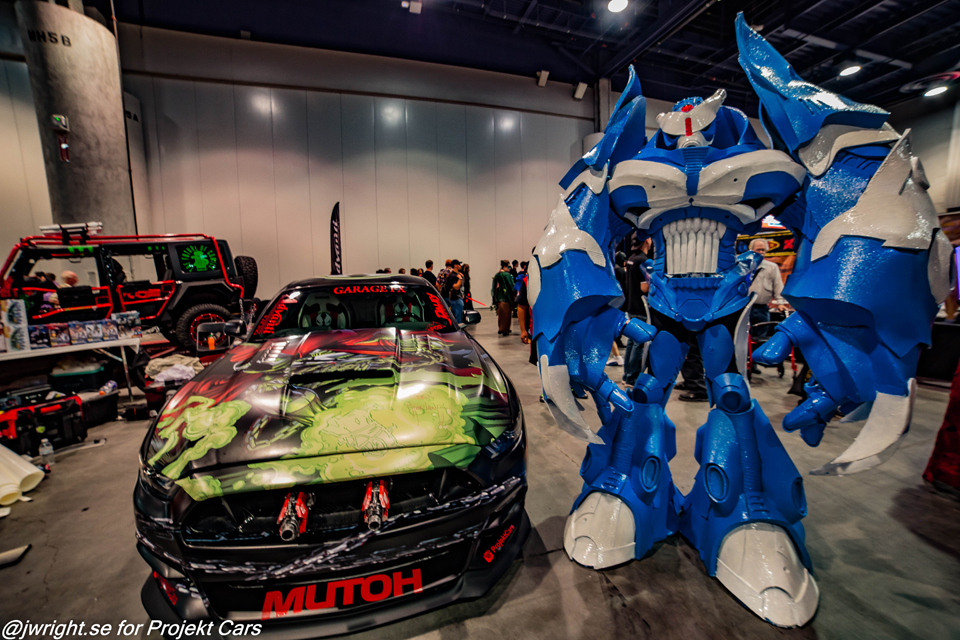 Projekt Cars has worked with Mutoh America for nearly five years now on various print projects. "They have been a valued partner in providing us with awesome custom tradeshow booth cars at events like SEMA," says Ryan Arakaki, advertising and events manager at Mutoh America who also does special print jobs and tradeshow printing for the company.
Arakaki printed the wrap onto Avery Dennison MPI1105 with 1370Z LUSTER PERM overlaminate at a 1440-by-720-dpi high speed via the Mutoh ValueJet 1624X eco-solvent printer. "I think it turned out phenomenal!" says Arakaki.
Mutoh sent the panels back to Daley for installation. Two custom-modified Mustangs, a GT and a GT350, were wrapped for Amazing Las Vegas Comic Con—Daley installed the wraps on one car before the show and on the other during the first two days of the show.
"We started with a wipe down/wash of the vehicle," explains Daley. "Then we removed the mirrors, the door handles, the headlights, the taillights, and the other rim pieces and moldings on the vehicle.
"To [achieve] the placement of the wrap, we carefully removed the release liner from the material and laid the material on the car. We then squeegeed down the vinyl, working out all the air and putting the vinyl onto the vehicle."
Once the material was applied entirely over the car, Daley trimmed the vinyl on all the edges and tucked it behind all rubber moldings covering all surfaces and exposed paint.
"We then put the car back together, and the job was complete," he says.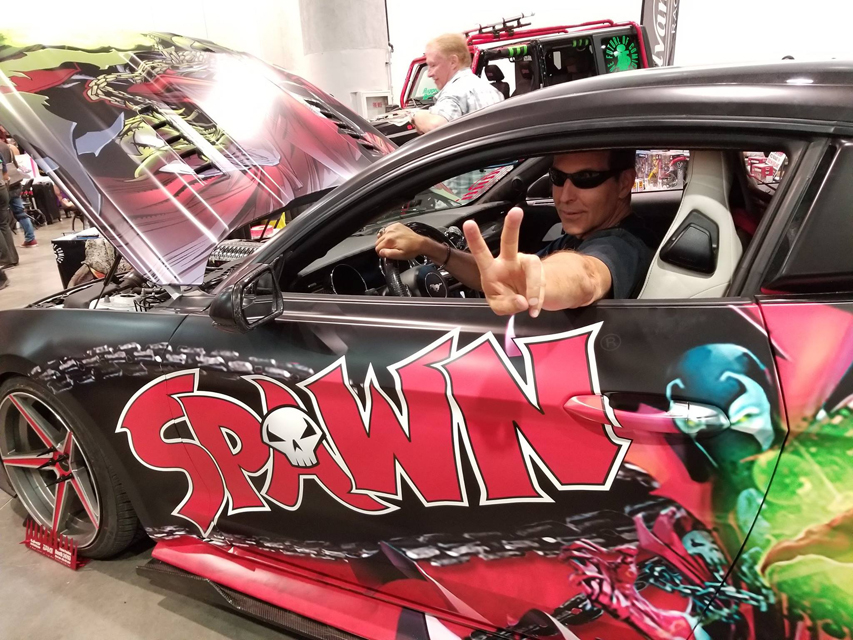 McFarlane, who was a guest of honor at Comic-Con Las Vegas, loved the finished wrap and even enthusiastically got into the driver seat to check everything out. "We even posted a video of his reaction on social media," says Molina, noting that the wrapped Spawn cars are still touring across the country.
"I think the artwork, overall design, and outstanding colors really make this wrap 'pop,' but the project was [even more special because it was] truly a team effort involving many people to make it happen," says Arakaki.
For more information on Projekt Cars, visit http://bit.ly/2wCP034.
—Jeff Wooten