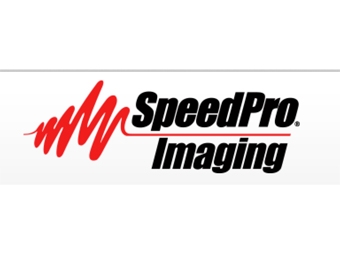 The Denver, Colorado-based SpeedPro Imaging headquarters installed an HP Scitex FB550 Industrial Printer and an HP Latex 360 Printer to demonstrate the efficiencies of direct-to-substrate printing and the value of lower operating costs to its franchisees. SpeedPro Imaging is comprised of a nationwide network of more than 120 studios that provide a variety of high-quality large format printing applications, including wall murals, event graphics, tradeshow displays, vehicle wraps, and window graphics.
With HP Scitex FB550 Industrial Printers, SpeedPro Imaging studios are able to print directly to rigid and flexible substrates, reducing time and labor demands to allow the businesses to focus on capturing additional market share.
HP Latex 360 Printers provide SpeedPro Imaging studios healthier production environments and reduced processing time because their output does not require drying time or offgassing, enabling the studios to finish prints immediately and deliver faster turnarounds than is possible with other technologies.
"Our network relies on HP Latex and UV-curable printing technology to drive key applications, which result in increased revenue and profitability for our studios," said Boris Katsnelson, president and CEO, SpeedPro Imaging. "Our collaboration with HP is critical for continuing growth and maintaining our position as a premier franchisor in the sign and graphics segment."
HP large format printing technology is the technology of choice for SpeedPro Imaging franchisees that need printing solutions that balance cost, quality, and reliability. More than a third of the SpeedPro Imaging network has installed HP flatbed printers and more than half of the network has installed HP Latex printers.
The headquarters location serves as a training and demonstration hub for franchisees that have already installed or are considering installing the HP Scitex FB550 Industrial Printer, the HP Latex 360 Printer, and/or other HP large format printing technology.