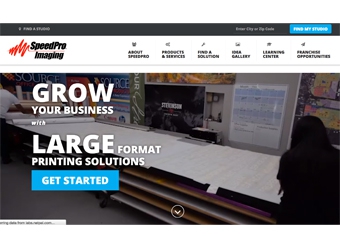 SpeedPro Imaging, a national leader in large format imagery, recently launched its new Website, www.speedpro.com. The highlights of the new Web site include switching to a sub-folder strategy, more customizability for franchisees' Web pages, full-motion video, and richer content.
"We've gone from 130 different studio Web sites to one big sub-folder, allowing easier navigation throughout the site," said SpeedPro Imaging Marketing Coordinator Jamie Eardley. "This eliminates duplicated content across individual studio websites, improving search engine visibility, which should increase traffic to our franchisees' Web pages."
SpeedPro's new Web site now allows franchisees to customize their page to showcase their work. This also makes it easier for Web site visitors to maneuver through the studio's portfolio of projects. Additionally a "Meet Our Team" section has been added to allow franchisees to share a biography and headshot of themselves and studio staff members.
The Web site also includes new energizing visuals, including full-motion video. There is video footage on the home page's backdrop that shows a SpeedPro studio in action. The Web site also includes more captivating content such as twenty specific product Web pages, thirty-one different industry Web pages, and thirteen event Web pages.
"We expect to drive more opportunities for our franchise partners and increase organic traffic to their individual studio's Web sites, building stronger conversions as we now speak to the majority of our clients," said Eardley.
With over twenty years of experience, SpeedPro Imaging specializes in wide format printing, including wall murals, event graphics, tradeshow displays, vehicle wraps, and window graphics. In addition to providing such graphics to local and national businesses, the company also caters to sign shops and printers on a wholesale basis.
SpeedPro currently has a nationwide network of more than 125 studios in 31 states, nearly a third of which have opened in the last three years alone.
For more information, visit www.speedpro.com.