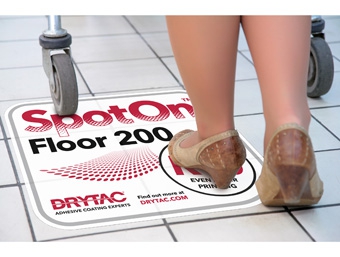 Drytac, an international manufacturer of self-adhesive materials for the print, label, and industrial markets, has announced that SpotOn® Floor 200, a new film for floor advertising graphics, is now available across North America. The latest introduction to Drytac's product line is 8mm (200µ) embossed printable white matte monomeric PVC film for short-term, indoor floor graphics applications.
Thanks to a unique dot pattern printed pressure-sensitive polyacrylate adhesive, the new film can be applied to multiple flooring surfaces including floor or ceramic tiles, sealed wood or concrete, waxed vinyl, marble, terrazzo surfaces, and more.
SpotOn Floor 200 has been certified by CTIOA and has achieved a 'low slip potential' rating in both wet and dry scenarios according to the EN13036-4 Pendulum Test.
Darren Speizer, Vice President of Sales and Marketing, comments: "We are thrilled to introduce SpotOn® Floor 200 in the U.S. It's a great product, and it has already been a huge success in Europe since its introduction at FESPA.
"Specifically developed for ease of use, and perfect for short-term indoor applications, SpotOn Floor 200 is cost effective, simple to print and apply, and can be quickly and cleanly removed. Thanks to its slip-resistance certifications, SpotOn Floor 200 doesn't need to be over-laminated, which really helps to save time and money. Just print, install and enjoy vibrant graphics."
Information regarding Drytac's entire range of products is available by calling (804) 222-3094 or visiting www.drytac.com.