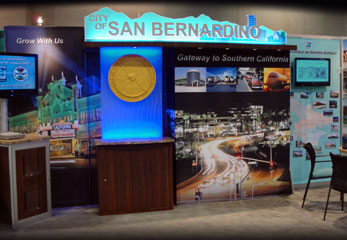 Nimlok Shows Who's BOSS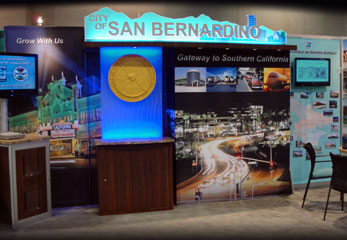 Nimlok, provider of custom and portable tradeshow exhibits, announces that two of its Branded Distributors, Nimlok Grand Rapids and Nimlok Orange County, were recently recognized as winners in the new Best of Show Series (BOSS) Exhibit Awards program. The BOSS Awards celebrate innovative exhibit design in the tradeshow industry and highlight the best exhibits, designers, and producers at premier tradeshows and conventions.
Nimlok Grand Rapids received a "Best Systems Exhibit" award for a booth produced for Chevron at the National Hardware Show. The 20-foot-by-50-foot booth included aluminum and fabric arc structures, four conference rooms, sound-dampening fabric walls, and two reception counters.
"When I was approached by Justin Bruursema of Chervon-NA to create something truly radical, we all just smiled and said 'game on,'" said Derrick Johnson, managing partner of Nimlok Grand Rapids. "It's extremely rare that a client will give you Carte Blanc to create something truly spectacular. Then, when I got the call from Vince Battaglia with the news of our BOSS nomination, I knew we had made a great impression by creating a truly unique and innovative show stopper."
Nimlok Orange County won a "Best 10-by-20-foot or Smaller" award for its client City of San Bernadino, as well as an honorable mention for an exhibit for Town of Apple Valley. Both booths appeared at the RECon Show.
"We are thrilled to have won a BOSS Exhibit Award," said Denise Dres, managing partner of Nimlok Orange County/Solutions Rendered. "We will continue to craft innovative face-to-face marketing solutions for our clients, and it's nice to see an industry awards program designed specifically to acknowledge exhibit design and fabrication in the field."
NEC Receives Women of the Channel Accolades
Betsy Larson, vice president of Channel Sales for NEC, was named to CRN Magazine's 2011 Women of the Channel, which is an exclusive list of executives who have achieved demonstrable success in the IT channel. This is the second time that Larson has made the list.
"I am honored to receive this CRN award and appreciate the work the publication is doing to acknowledge the many women making their marks in the IT industry," said Larson. "As a company, we're grateful to our valued reseller and channel partners for helping NEC achieve its goals and drive its success."
Larson follows in a line of NEC female executives who have been named to the prestigious CRN list. As the head of channel sales, Larson is responsible for building and nurturing relationships with NEC's top distributors and resellers. She is credited with helping solutions providers gain momentum in the fast-growing market segments of public display and projection technologies.
Flex Display Technology from NanoLumens Breaks on Through
NanoLumens announces its Flex LED displays received the 2011 American Technology Award in the category of Breakthrough Technology from the TechAmerica Foundation.
The Flex LED displays come in virtually every size and shape to conform to fit the shape of any surface—turning it into the perfect marketing and video display vehicle. The technology promises to shatter the traditional usage limitations of large format displays. Made from seamless modules, a 112-inch display at less than two inches thick weighs less than 90 pounds, which makes installation easy. Lower energy consumption helps to cut costs of maintaining a large format display, as well.
"In receiving the 2011 American Technology Award for our NanoLumens Flex Display technology, we are proud to be recognized as an innovative company with a breakthrough product," said Rick Cope, president & CEO of NanoLumens. "By combining our ability to produce flexible LED displays in any shape and size with a lower cost of ownership, reduced energy consumption, simplified installation procedure, and infinite usage and placement possibilities, our Flex Display Technology represents the future of display technology for all commercial and governmental applications."