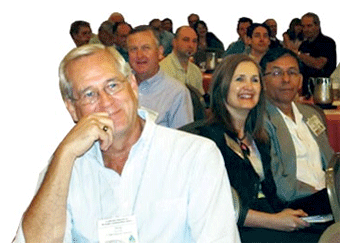 As the print market has changed, so too has the skill set needed for a successful sales effort. During the Vision 3 Summit, coming February 19-22, 2012 to the Marco Island Marriott in Marco Island, Florida, industry executives will hear from a panel of hands-on experts about exactly what is needed to transition their sales teams to be effective in this new environment. Moderated by Joe Truncale, Ph.D., NAPL President and CEO, the Tuesday morning session will highlight strategies for successfully communicating print's relevance in the media mix to today's customer.
"The days of chatting with print buyers and taking orders are over," asserts Truncale. "Integrated marketing and cross-media campaigns are the strategy of the day, and decisions about where print fits into this equation are moving up the corporate ladder."
Panelists for the interactive session "Transforming Your Sales Team for Print Profitability" will include David Pitts, co-owner of Classic Graphics and past chairman of The Printing Industry of the Carolinas (PICA), and Mark Potter, President of Conduit, Inc. and Publisher of CANVAS Magazine.
Owners and sales managers attending the Vision 3 Summit will also benefit from another session held later in the day, "Is Your Sales Compensation Plan Working?" presented by NAPL VP and Senior Consultant Mike Philie.
"Let's face it, hardly anybody is completely happy with their sales compensation plan," states Philie. "There are many critical issues involved with creating a sales compensation plan that aligns with your strategy and objectives. We will explore those issues and examine how to introduce them into your sales strategy."
Additionally conference sessions held in a variety of formats will cover a dynamic mix of: current marketplace updates, the latest economic and industry data, fresh and original industry research results, and also introduce the new-for-2012 "Peer Exchange Roundtable Forum."
For complete information about the Vision 3 Summit and to register, visit www.vision3summit.org.
Special discount registration rates apply until the January 20, 2012 early bird deadline, and the hotel reservation deadline has been extended to January 25, 2012.
For conference updates and news, follow the Vision 3 Summit community online at: Facebook.com/Vision3Summit and Twitter.com/Vision3Summit.