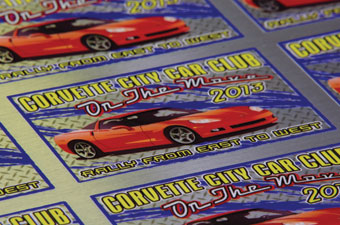 If you're looking to diversify your product options, consider the "smaller end" of digital printing, which encompasses promotional items such as awards, souvenirs, and even covers for tablet computers.
With the advent of smaller UV printers, the manufacturing process has become simpler and the product more market-friendly.
Take the example of TIME FRAME® (www.timeframe.com), a shop making promotional products. The company began using Roland's VersaUV LEF-12 printer and watched their production process successfully change.
As they invest in additional printers, the company will begin phasing out their current method of production, which is applying stickers to metal or plastic. "Dash plaques are a great example," says Jeff Bishop, president of TIME FRAME. "Our 'classic' dash plaques are laminated stickers that are produced through our normal process and then manually installed into plastic frames. We usually hot-stamp the frames to give them a metallic look.
"Now using the UV printer, we grab a piece of metallic engraving stock and print the full-color image directly to it."
The Direct Printing Advantage
Bishop says that not only are there operational advantages to direct printing, "but the product is waterproof and looks absolutely amazing!"
(Note: Bishop adds that his company wouldn't have considered a change to UV printing if they had to consider sacrificing image quality; instead, they're quite impressed by the quality of the printing of this new process.)
Based in Peterborough, New Hampshire, TIME FRAME was founded in 1990 and assumed new ownership in 2012 when Bishop purchased the company with his wife, Francoise. Merging her background in business and marketing with his engineering and operations experience in the automotive and aerospace industries, they set out to grow a small business that would serve the awards and promotional products industries.
TIME FRAME's main products have always been trophy inserts and plaque components (essentially high-end laminated stickers), but their product offerings have expanded greatly in recent months.
In addition to Jeff and Francoise, the company employs ten staff members who work on three main product lines: award products, promotional products, and labels and decals. "We produce everything from a five-cent paper label all the way up to plaques and glass awards that might sell for as much as $90 each," says Bishop. "The one common thread among the various products in our portfolio is that they all involve high-quality, full-color digital printing."
Using the example of a typical plaque that can be purchased through any neighborhood trophy shop, Bishop demonstrates how their product line has evolved over the years.
Initially the company produced only two-inch laminated Mylar inserts that were assembled into a holder and then stuck to the face of a plaque along with an engraved plate that was typically produced by the trophy shop. However after a few years, TIME FRAME developed their own full-color plaque mounts that replaced the Mylar, the Mylar holder, and the engraved plate, while adding color and making the design more visually interesting.
"Now we're taking the same engraving stock that our customers used to spend hours engraving, and we're printing amazing full-color graphics directly onto the metal," says Bishop. "It's allowing us to use the beauty and sophistication of the gold or silver plate, but we're taking it to the next level.
"We're adding full-color photos, scanned signatures, variable data, and even textures to today's plaque mounts."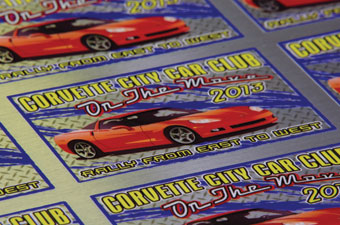 TIME FRAME finds that its UV machine loves to print on plastics and acrylics, while other substrates (such as metal and glass) require some amount of process development to ensure the printing will stay intact for a long period of time and that it will wear well.
Bishop adds that when they print on metal parts, they either apply an epoxy dome or a pressure-sensitive laminate over the artwork. And with glass, they perform both a pre-treatment and a post-treatment to create a reasonably wear-resistant product.
Making Progress
To move forward in this field, the business plan has to be targeted and strategic.
A first requirement for TIME FRAME when it comes to taking on a new project is that it must include high-quality artwork. They then have to be sure they can make a customizable product in a short period of time.
Finally, says Bishop, they have to make a profit using their preferred American supply base. "I'm not a fan of importing components, and I'm not interested in being a 'supplier' that sources manufactured product from overseas," he says. "My plastic parts and metal components are mostly imported from Massachusetts."
When it comes to the artwork, most of their jobs include files provided by their customers, which TIME FRAME's designers then work on. "Again dash plaques are a really good example of this," says Bishop. "We might receive a photo of a car positioned in front of a chain link fence with two people standing next to it. Our designers extract the car from the photo, enhance the image using design software, redraw portions of the vehicle (if necessary), apply the car to a cool background, and then lay out text around the car in a way that looks fresh and interesting."
Over time, the team has accumulated a library of vectorized cars, trucks, tractors, sports images, mascots, and other categories of images. "We allow customers to view these images online and to use them in their artwork. This comes in very handy for car clubs and sports teams that don't necessarily have their own artwork," he says.
As a business owner, Bishop is excited that flatbed UV printing has allowed TIME FRAME to expand its product line to include small signs, placards, name plates, identification tags, and other high-volume product lines. "We can also go even lower on the volume scale and get into personalization of keepsake items, memorial plaques, and even Christmas ornaments," he says, noting that there are so many different directions they can go that it's sometimes hard to stay focused.
In estimating the current market for promotional items, it's hard to make a determination, since many are produced outside the U.S.
"We try to stay focused on low-volume and quick-turnaround opportunities," says Bishop. "The overseas suppliers cannot compete with us in this arena, just as we can't compete with them on an order for 50,000 key chains that are needed in three or four months."
How to Get Involved
For sign professionals looking to partner with a company that offers promotional items, Bishop has some advice: Understand your niche and work to dominate that space in the market.
"We tend to specialize in lower volume, quicker-turnaround orders, as well as those orders that most suppliers would consider 'weird.' These would include items and services that don't fit neatly into a product catalog and require real communication, design work, and innovation," he says. "I have to ask myself everyday: Am I getting better at handling small orders? Can I get faster? Do we have enough creativity bandwidth to handle more 'weird' projects in the future?"
As with any partnership, Bishop encourages solid communication with your supplier. "Find one that will take time to talk to you about process capabilities, suggest product solutions, and participate in the creative process with you and your clients," he says. "There are plenty of suppliers out there that will take your artwork and print it on something for you.
"There are probably very few that will take the time to truly brainstorm ideas with you or take your customer's chicken-scratch drawing and work with you to turn it into an amazing keepsake item for them."
As TIME FRAME expands its UV printer line and opens up to new product ideas, they'll consider entering the "new frontier" of printing onto glass and acrylic.
"We've already completed several large projects and what we're doing is very exciting for us and for our customers," says Bishop. "The ability to print on both the front and back sides of a surface has opened up a new world for our design staff.
"They're creating 3-D effects on award products, even glass medallions that are really amazing."
By Lori Shridhare
All Photos: TIME FRAME.