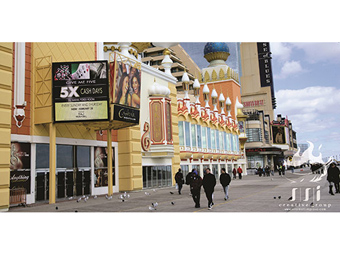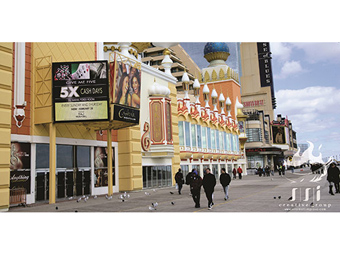 The Taj Mahal in Atlantic City, a Trump Entertainment Resort, welcomed its newest form of dazzling marketing entertainment to the famed Atlantic City Boardwalk in early January 2013 with a new LED video display system from Daktronics and SSI Creative Group.
Trump Taj Mahal's new 10 mm LED video display measures approximately 12 feet high-by-11 feet wide and features a fully sealed, robust cabinet design to ensure it performs reliably in its coastal environment. Built for high performance, all Daktronics outdoor LED video displays have multiple layers of outdoor defense, including protection against extreme cold, blistering heat, corrosive salt, and punishing precipitation.
Brad Wiemann, vice president of commercial and transportation business for Daktronics stated that "when the SSI Creative Group selected us to customize a video display system for the Taj Mahal property in Atlantic City, we suggested our industry-leading display to compliment the true elegance of the Trump property. This product offers the most advanced weather defense solutions, crisp image views at close distances, and would complement the true elegance of the Trump property."
"When SSI was tapped to do the Atlantic City Taj Mahal video display project, we knew we needed equipment that must withstand the unstable coastal environment that Atlantic City experiences, while offering the most advanced close range resolution of any display system in the marketplace. Daktronics offered that complete package for our customer's branding expansion," said Chuck Jacques, president of SSI Creative Group.
Discover more about Daktronics dynamic LED video displays at www.daktronics.com/Spectaculars.
About SSI Creative Group
SSI Creative Group specializes in the design, engineering, and fabrication of architectural elements, themed environments, interactive exhibits, and custom signage for clients nationwide.
For more information visit www.ssicreativegroup.com.
About Daktronics
Daktronics has strong leadership positions in, and is the world's largest supplier of, computer-programmable displays, large screen video displays, digital billboards, electronic scoreboards, and control systems. The company excels in the control of large display systems, including those that require integration of multiple complex displays showing real-time information, graphics, animation and video. Daktronics designs, manufactures, markets and services display systems for customers around the world, in sport, business and transportation applications.
For more information, visit http://www.daktronics.com/commercial.