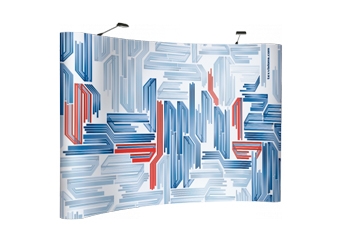 Tex Visions, one of the leading suppliers of custom large format printing and display hardware, announces the launch of several additions to its successful line of Pop Up displays. Resellers are now able to purchase from Tex Visions several new larger Pop Up displays, which feature higher-quality improvements, are available in three product lines:
Pop Up Straight Fabric. The Pop Up Straight Fabric line of pop up displays utilizes aluminum criss-cross frames that snap together in seconds. These products stand straight and are available as table displays and floor-standing models in six sizes from 2.5-by-2.5-foot to the massive 12.2-by-7.4-foot. All models are available with or without sides. Prints are done on Multisol® X FR, a wrinkle-free, opaque-knitted polyester with a slight stretch.
Pop Up Curved Fabric. Much like the Pop Up Straight Fabric, the Pop Up Curved Fabric line utilizes aluminum criss-cross frames, but are curved to create a warm, inviting feeling for trade show booths. This line features four floor-standing displays in sizes from 5-by-7.4-foot to 12.2-by-7.4-foot, and a 7.4-by-5-foot table display model. Pop Up Curved Fabric displays are also available with or without sides and printed on the same materials as Pop Up Straight Fabric displays.
Pop Up Magnet. The newest addition to Tex Visions' Pop Up displays product line, the Pop Up Magnet displays use magnets to connect the frame together, and hooks at the top of the prints to make it easier to line up panels. The print also connects magnetically, and is printed on PVC Opaque 20ml, a high-impact strength PVC that's lightweight and tear-resistant.
"We want to be even bigger and better in 2015, and one of the ways to meet this goal is by making bigger and better products," said Tex Visions CEO Marcel Ruhland, company. "The Pop Ups Straight and Curved 12.2-by-7.4-foot are among our largest displays and are perfect for those resellers who want to help their clients obtain maximum visibility."
All Pop Up displays include the print, the frame, and a convenient carrying case. Available accessories for Pop Up displays included a variety of attachable LED and halogen lights in black and gray and the Hard Travel Case, which makes it easy to transport a display from location to location. The Hard Travel Case can be outfitted with a magnet or stretch wrap and be used as a promotional counter.
For more information, visit www.texvisionscom/display-systems-banner-stands/displays-pop-up-custom-tradeshow-booth.