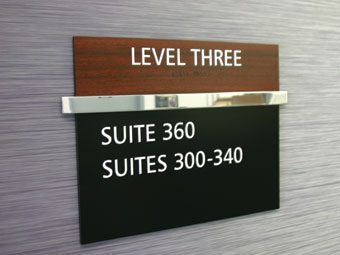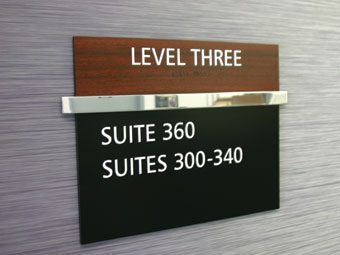 As the economy continues to recover, so too does the optimism in many business sectors across the country—including signage.
The last few years have been difficult for many companies, and those that have made it through these uncertain times have had to make some changes in the way they operate.
The idea of doing business as usual has changed and the need to rethink everything from business operations to the products that are being used on a daily basis has become the new reality.
And this is not necessarily a bad thing.
The Plan
During a trip to Missouri last fall, I met with Bill Baker, president of Park Place Sign Systems in Hannibal, to discuss some of the changes he has been implementing in his shop. Park Place has been around since 1980 and manufactures and supplies interior and exterior sign products for many fields.
"One of the things we've found in our business is that we cannot recover time. We always have the ability to acquire more work and generate revenue, but time is something we cannot recover," said Baker. "Like many other companies, we try to do more with the same size staff.
"We cannot recoup the time and expense associated with correcting problems during production or after the product ships. Our customers are expecting quicker delivery—even on custom projects."
Baker and his team started looking at reasons why some jobs were taking too long to produce. They also accessed the causes for certain failures in the field (most of which had to do with variable environments and dissimilar substrates).
A detailed analysis of his company's manufacturing processes, materials, and staffing were necessary to improve efficiency in production and the durability of Park Place products. "We quickly realized that some of the products that we were using in the field were not the best or proper products for the situation," says Baker.
Baker uses adhesives as an example. "We had chosen some of the adhesives we used for various reasons over the years—whether it was recommendations from various manufacturers, experimentation on our part, or decisions based on material cost," he says. "We still lacked confidence in the performance of some of the adhesives we were using."
Baker reached out to all his vendors and analyzed his products to make sure he was using the right tools for the job. Costs aside, performance became the main concern, as reducing production time and increasing throughput was the ultimate goal.
During my meeting with Baker, we discussed bonding NovAcryl Series Photopolymer to different back plates. Photopolymer can have a PETG base or an aluminum base that potentially gets adhered to a second substrate (such as acrylic, polycarbonate, ABS, etc.) before being mounted to a wall. This combination creates many challenges—especially when you consider that the mounting environment can be interior or exterior.
The adhesive mounting conversation led into a real-life scenario. Park Place had recently completed a sign package for a sports stadium that included exterior wayfinding signage, and they were having issues with the plastic faceplate separating from the aluminum bases that were adhered to the wall.
The Solution
After discussing several possible solutions, I reached out to our partners at 3M™ in hopes of finding the proper adhesives for this application.
While we were able to help Baker with his immediate need, we found that there had not been any in-depth testing done that could recommend the proper adhesive solutions for all the different scenarios that a typical architectural sign company faces. Most sign shops choose adhesives by trial-and-error or vendor recommendatios—not from lab results conducted by the material manufacturer.
Baker and his team started working closely with Nova Polymers and 3M to perform an in-depth review of all the materials PPPS uses in its shop. A PETG-based photopolymer ADA sign may be mounted to acrylic, aluminum, or PVC foam. And any of these substrates may be painted or decorated with a digital print (creating a multitude of scenarios).
Our goal was to truly understand the unique materials being used and the varying environments that signage is installed in. 3M and its staff of technical professionals made several visits to PPPS to get a hands-on feel for how an architectural sign company operates. The feedback was taken back to 3M where an in-depth testing program was performed in their lab.
"Working with [Baker] and his team allowed us to see first-hand the challenges that our sign shop customers face on an everyday basis," said Jim Mallace, market development manager at 3M. "We welcomed the opportunity to work closely with Nova Polymers and Park Place Signs to bring an even higher level of consistency to the sign mounting process."
The Results
During my initial conversation with Baker, our goal was to find a solution to a specific problem and evaluate how photopolymer was being mounted to various substrates. With the help of our partners at 3M, we ended up creating a Materials/Applications matrix that can be used by sign fabricators to reduce waste and failures in the field while giving shop owners the confidence they need when installing a job.
The 3M lab tested a broad range of materials/substrates over six months and could recommend several adhesives with most of them. However with a few of the substrates, it was clear from the test data that only certain adhesive types would be successful. The testing program gave valuable insight into the broad range of materials used in this type of application, as well as how to select the appropriate adhesive solution.
"We are thrilled with the results of this project. As we incorporate many of the recommended materials from this study, we expect an increase in the durability and performance of our sign products," says Baker. "In addition, we now have confidence that we are providing the best materials available."
Baker believes that working closely with his vendors/partners will make them a better company and even benefit their customers. "We started with a series of simple questions that led us to look internally at everything we do," he says. "Continual analysis and improvement in all areas of our business is one of the keys to our success."
—Mike Santos
Mike Santos is director of development at Nova Polymers.
All photos courtesy of Park Place Sign Systems.