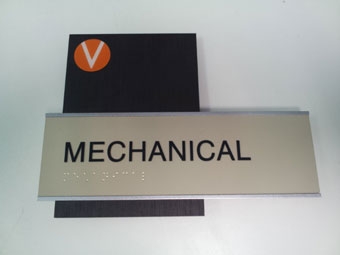 The Americans with Disabilities Act ensures that the physically impaired enjoy the same benefits as all citizens— including easy access and maneuverability in public places.
To realize this admirable goal, the law opened a new category of opportunities for sign builders by creating wide-scale demand for signage to help the disabled get around.
"Any place in a building or business the public has access to is supposed to have ADA-compliant signage," notes Don O'Toole, co-owner of Signs PDQ, a sign shop and wholesale provider of turnkey ADA solutions based in Willoughby, Ohio.
Despite such broad potential, ADA is actually a specialty relatively few sign makers pursue.
"Most sign shop owners don't understand this niche," adds Derrick Anderson, CEO of solutions provider ADA Central. "Half our wholesale customers have never dealt with an ADA project before, and they're trying to figure it out on the fly.
"But there are opportunities [available] for those who are familiar with basic ADA signage requirements and are able to communicate them to their customers."
Clients & Projects
In this niche, clients and projects fall into two broad categories.
First all newly built public buildings and facilities must meet ADA signage codes before they open. This can mean hundreds of signs for a large build project like a hospital or scores of signs for new offices. The client placing the order may be an architect, a construction engineer, or a project manager.
The second market involves bringing older structures up to ADA standards. Remodels of existing buildings and businesses may have a need to bring their signs into compliance.
"ADA signs for a new building may represent just one-tenth of one percent of the total project," notes Steve Wethern, vice president of full-service sign builder AE Sign Systems, "but in the end, it's a very important part of the project.
"If the signs aren't ADA-compliant, then owners won't receive the certificate of occupancy."
Whether a public building is new or newly remodeled, the same set of standards apply.
"We have national ADA codes as a starting point," says Wethern. "One problem we often encounter is that city inspectors have their own idea of what those codes mean, and that's the person who finally approves the project."
In some areas, local requirements may differ or be more stringent than the national standards. According to Charles Kelly, Jr., president of architectural sign systems provider Clarke Systems, successful implementation begins there.
"The rules always come first," he stresses. "Once sign makers know the federal and local rules governing signage in that locale, they—and we—can get as creative as the project demands, as long as the regulations are kept top of mind."
Implementation
As Kelly states, those who want some of the business must know and understand what all applicable codes require.
"These specs cover a range of factors—font type and size, colors and contrast, placement of icons, Braille texture, and size and location of signs," he says
O'Toole advises that shop owners should be familiar enough with the codes to be able to create a bid submittal.
"You want to take the client's specifications and provide a signage schedule—listing all signs that have to be made to be ADA-compliant and provide a picture or rendering of every one of those signs," he recommends.
For this reason, Wethern states, "Ask a lot of questions at the beginning, so you understand what the project requires. Because while the same codes apply, everyone wants things done differently."
A thorough site survey is critical. Properly done, it should determine design, materials, and installation. Project size, the number of people using the facility, and its interior design are part of this evaluation.
Bobbi Payne, technical support specialist for materials supplier Rowmark (rowmark.com), says, "Customers need to understand what each sign will be used for in an effort to determine exactly what ADA requirements need to be incorporated into their designs."
Payne explains permanent space and emergency egress signs must comply with all required elements, while directional signage hanging from ceilings or over doorways may only require sufficient color contrast, sans serif fonts, and correct character size to accommodate reading distance.
"They might also consider that, while their signs do need to be compliant, they can also be aesthetically pleasing," she adds.
ADA sign regulations aren't difficult to understand.
"A working knowledge of the requirements and familiarization with the installation standards gives a blueprint for what to look for when reviewing and assessing a building or plans," says Kelly. "Site lines, door positioning, and permanent versus non-permanent room locations all play a role in determining what signs go where and how many are needed."
At architectural sign materials manufacturer Nova Polymers, Marketing Director Mike Santos advises shops to weigh the factors that will impact the best material for the project.
"Project design, overall 'feel' of the space, and setting should all weigh in the selection," he points out. "Things like lighting conditions and available wall space on the latch side of the door are important elements when planning the size, shape, and design of ADA signs.
"Also it's important to take note which areas of a building will be climate-controlled so the correct material can be chosen. Just because a space has a roof does not always mean it's an interior climate."
If an interior-rated product is used where an exterior substrate is really required, the sign could fail prematurely.
Protect Yourself
In fact, clients sometimes demand signage that doesn't measure up to ADA standards.
The wrong size or colors, incorrect design, or installation can all impact compliance. Only those who know what's required make the appropriate recommendations about what will or won't work.
When a client does insist on signs to their specifications rather than the ADA standards, the sign provider should advise they do so at their own risk.
"One of the bigger problems with ADA signage can be trying to convince some customers what the law says," notes Anderson.
The sign maker who doesn't provide that warning could be forced to redo the signage.
"If the client still insists on those signs after they have that conversation, there should be some documentation, with signatures, to protect the sign shop," suggests Anderson.
Sign providers can be in an awkward situation, obliged to meet client demands while protecting their business interests, as well.
"When we know something they want isn't compliant, we tell them that in an email," shares Wethern. "That, and their response, becomes part of the record for that project."
Even when signs are compliant, a client could install them incorrectly. As protection, Wethern provides a PDF of the relevant ADA standards.
"If we aren't doing the installation, we can't tell if it's done right," he explains. "And if we don't let the customer know, and document that, it would be our responsibility if it's not approved."
Entering the Field
"ADA signage would be a great add-on for any full-fledged sign shop," says Anderson, "but there doesn't seem to be the boots on the ground in many shops to know how to go after that business or what it takes.
"We get a lot of calls from companies who tell us they turned down this work in the past because it just seemed too complicated or that they're too much to deal with. We try to make sure they understand what ADA requires [in a way] they can communicate to their end-customer."
That education entails more than sign production and installation.
Because ADA requirements are so stringent, those new to this niche may want to partner with a supplier or wholesaler, at least initially.
"We can help them review the RFP and offer direction on the questions they need to ask in order to make a competent, targeted proposal," states Kelly.
O'Toole explains that by the time you see a new building going up, someone already has that sign project.
"If you want to bid on these, you've got to get in on the ground floor," he advises.
For small or independent sign shops, the best introduction may be in retrofits, bringing existing buildings into ADA compliance as part of a remodeling project.
"Those tend to be smaller jobs that are better suited for smaller shops," says O'Toole.
By Mike Antoniak
Photos: Signs PDQ, Small Balls, Clarke Systems.