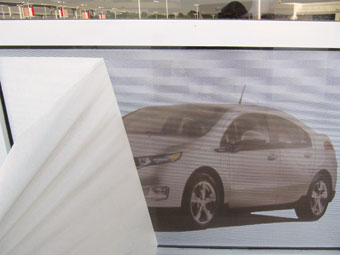 I have several clients who own successful automobile dealerships. Recently I was called in by one of them to install digitally printed perforated film to the lower windows of their Chevrolet showroom.
There are several automobile salesmen at this location who have their desks on the other side of the windows. The problem is the windows get hot as the day progresses, and the owner wanted a solution to keep the sun off these hardworking salespeople.
After studying the situation, I had an idea. I collected the 2014 sales brochures of each of the Chevrolet automobiles on lot, scanned them, and resized the artwork to fill up the size of each lower window. I created simple JPEGs, sized them in Photoshop, and then sent the files to my Roland printer for output.
I printed six photos of the Chevrolet cars and four photos of the Chevrolet logo and installed them along the bottom row of windows next to the sidewalk. Most of the windows were similar in size; however a couple of them were shorter and one was longer.
Using my highest grade of window perf film, I printed the images, cut them to size, and installed them in no time at all. I install all my window perf with transfer paper; this lessens the chance of tearing the fragile prints.
I am a fan of the center-hinge method of applying window perf film. So I took the cut-to-size window perf graphic, centered it on the window, and applied two rows of two-inch masking tape vertically from top to bottom.
Then I started with folding the print over to the left-hand side and removing the backing sheet. With my felt squeegee, I gently rubbed the print down onto the glass.
After finishing that, I did the same process for the other side of the print, and that was it!
Window perf film has the holes to let the air out, and because of this, you will have to work extra hard to get a bubble in a sheet of window perf film.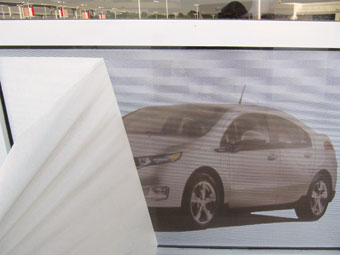 Another advantage of printed window perf film is the ability to display the current model year automobiles just waiting for their new owners. For this particular application, we did not use any words at all—just printed perforated prints.
Window perforated film is a fantastic product for short-term advertising and long-term use for covering total store frontage. To increase your chances of closing the sale, create photographic mock-ups of a set of windows you would like to sell—showing the soon-to-be-installed fantastic window perf graphics.
Your client will get more bang for the buck with total coverage, so go out and sell some!
By Mark Roberts, a thirty-seven-year sign industry veteran, seminar speaker, and teacher for all things signs. Visit his Web site at www.theintersigngroup.com.