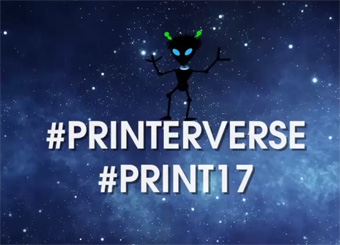 The Printerverse™: Print Media Centr (PMC) will bring an out-of-this-world lineup of expert panel presentations and special events to The Printerverse (Booth 4425) at PRINT 17, coming September 10-14 to Chicago's McCormick Place South. The Printerverse is a highly interactive show floor feature for free "Printspiration, Information and Fun" open to all attendees. Show visitors are invited to participate in the daily panels, and to connect with the topics, trends, and people who are moving print-driven industries forward.
"This year's Intergalactic Alliance of The Printerverse partner roster is the biggest we have ever had, growing as the 'print galaxy' stretches into new frontiers to serve markets with innovative new products and services. This year's compelling mix of expert panel discussions and special events provide show visitors—and home viewers of the Livestream broadcasts—diverse insights and keen points of view from Alliance partners and industry guests on many of today's most timely industry topics," states Deborah Corn, Principal at Print Media Centr.
The Intergalactic Alliance of The Printerverse is comprised of twenty-eight exhibiting companies at PRINT 17: adphos North America, Avanti, B&R Moll, Canon, Chili Publish, Docket Manager, Domtar, drupa, Eagle Systems, Fastbind USA, GPA Specialty Substrate Solutions, HP, Inkish.TV, KeyPoint Intelligence/InfoTrends, Konica Minolta, Mediaclip, Memjet, Mitsubishi Imaging, Inc., Motioncutter, Mutoh America Inc., NAPCO Media / PI Group, Pitney Bowes, printIQ, Ricoh, RMGT, SmartSoft, Solimar Systems, and Two Sides North America.
Thayer Long, President, NPES, says, "We are thrilled to have the galactically known Printerverse back with us this year for PRINT 17 in Chicago, making it six years in a row! The Printerverse is a very popular and dynamic area on the exhibit floor which offers attendees unique industry perspectives on a range of topics, and is FREE for those who come to PRINT 17."
"The Printerverse is also a hugely popular show floor networking hub. Come for the conversations, meet-ups, tweet-ups, and stay for special events like Girls Who Print Day," says Corn. "Tuesday September 12, 2017, we celebrate the 6th annual Girls Who Print Day hosted by Girl #1 Mary Beth Smith, and me. The festivities blast off with Trish Witkowski of FoldFactory.com at 12:00 noon CT, followed by lunch and the presentation of the 4th Annual Girlie Award at 12:30 p.m. CT. The very popular and always printspirational Girls Who Print Leadership Panel follows at 12:45. Girls Who Print Day and all of our programming and events are open to all attendees," she continues.
For the latest updates on The Printerverse sessions and special events, plus information on how to watch Livestream broadcasts of The Printerverse Sessions direct from the show floor, visit http://print17.printmediacentr.com, and follow @PrintMediaCentr and #Printerverse on Twitter.
For more information about PRINT17 and to register, visit www.print2017.com. Use code "PMCPRINT17" for a FREE PASS to the expo floor.