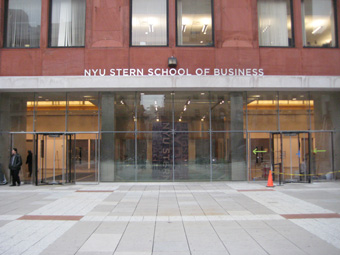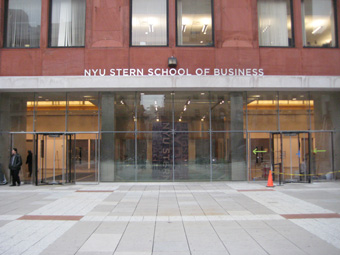 When working with all the components of architectural signage, balance is key—between form and function, complexity and simplicity, and as one company defines it, between art and science.
"When asked the question, 'what is architectural signage?' by countless individuals, we used to joke that if an architect could design the sign, we could build it," says Dan Forst, sales manager for Dura Architectural Signage, a family-run company in Long Island City, New York with over fifty years of experience. "But the exact answer is a little more complicated.
"Architectural signage combines equal parts art and science to create a superb static or dynamic sign product."
Forst goes on to say that the science comes from good production practices, rigorous employee training, tight engineering specs, attention to detail, knowledge of codes and specifications, innovation, and the use of the right tool at the right time.
"The 'art' of the process relates to the creativity, intuition, experience, and finesse of all the staff involved. Together art and science comprise the 'yin and yang' of architectural signage production," adds Forst.
With a focus on designing, manufacturing, and installing interior and exterior architectural signs for large clients, Dura works primarily in corporate, commercial, educational, and medical architectural signage for global clients. Working within all fifty states—as well as Canada and U.S. territories—projects run the gamut from code and safety signs and nameplates to wayfinding and highly customized interior and exterior building signs.
"We own and utilize lasers for cutting and for Braille/tactile appliqués; multi-axis water jet machines for metal letter and logo fabrication; computerized vinyl cutters, plotters, and engravers; and a host of ancillary CAD/CAM machines," says Forst. "Our customers now demand rapid production and delivery of prototypes and expect us to be knowledgeable in not just manufacturing, but in all aspects of technology—from simple communication via cell phone, e-mail, and text messaging to understanding about firewalls, networks, servers, routing, and punch-out catalogs."
While technology has revolutionized both the sign-making process and the ability for manufacturers to deliver content in new and exciting ways, some of the tried-and-true designs still appeal to institutions that want to showcase donors.
For example, New York University's Stern School of Business Concourse renovation commissioned Dura to work on a project that involved engineering, manufacturing, and installing complex donor panels, hundreds of customized room signs, and a handful of stainless steel building identification signs.
According to Forst, the most challenging part of the project was the large-scale donor signs, which were as large as 4-by-12 feet and weighed a few hundred pounds each. The designer had specified custom-frosted and -machined 1-1/2-inch-thick acrylic panels with subtle patterning and flat-cut aluminum letters bookended by large, high-finish brushed aluminum end panels.
"Starting from the design, we were tasked with engineering a sign that would securely fasten to a wood veneer wall using only concealed fasteners," says Forst. "Plus we had to figure out how to transport a 4-by-12-foot sign into a space that had no adequately sized stairwells or freight elevator access."
Their solution was to come up with a system of interlocking acrylic and aluminum panels that allowed them to transport the sign in sections to the final location, seam the panels on-site, and then anchor them into the building's existing concrete sub-structure using concealed fasteners. "With the challenges resolved, visitors now enter the space and see only a series of expansive acrylic and aluminum donor panels sitting neatly on bamboo walls," says Forst.
Working in a successful partnership with the sign designer is essential to balancing the "yin and yang" of architectural signage. Dura Architectural strives to work with firms that are realistic in their expectations, innovative in their designs, and professional in their dealings with customers and vendors.
Forst also looks for firms with a good understanding of codes and materials. "They will pay the same amount of attention to detail in their design that we do to our manufacture," he says. "A great design firm must trust the sign companies it deals with and consider them a resource; it's a collaboration of equals (not a dictatorship) to build a product that will be greater than the sum of its parts."
Over the last fifty-five years, Dura has not only observed changes that have impacted the industry, they've also watched their clientele become savvier. "Customers' are expectations are greater. They have shopped the Internet for prices and know what the market will bear," says Forst. "Customers also have less time available as they are required to respond to constant e-mails and texts and absorb vast volumes of information in small segments of time.
"In so doing, we have all become experts at multi-tasking."
Pointing out that their newest foray is in the area of digital signage, Forst shares that while they love the tangible aspect of a well-crafted static sign, they also realize that many customers require digital signage for their rapidly changing environments. "In its simplest form, these would be directories or even directional information in airports, hospitals, universities, conference centers, hotels, and the like," he says, "but digital signage capabilities go way beyond that."
Forst notes that, for one, digital signs can collect information from their environment based upon complex recognition algorithms and seamlessly tailor the display to a passer-by. "This might be in a mall that points users towards a particular store, depending upon the ascertained hypothetical age, gender, and generic buying habits of a potential shopper," he says, "or it might be a donor system that can be custom-tailored near instantaneously to recognize one individual's contribution when that individual comes to the site."
Dura is often asked not just to provide the display hardware and software but also to manufacture custom-crafted cabinets and enclosures to house the equipment. "Digital sign technology is like any other system: Used properly, it will enhance a static sign system and complement the end-user environment with necessary functions and features," says Forst. "But overuse can turn a professional corporation's offices into a mini-Times Square.
"It's a give-and-take process that requires us to continuously balance aesthetics and technology into a single cohesive package."