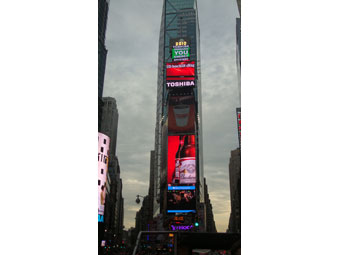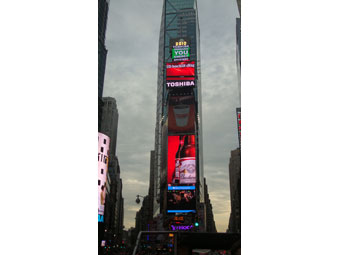 Officials of the Times Square Advertising Coalition (TSAC) (www.timessquareadcoaliton.org) today announced an exciting new program, "Times Square Moment: A Digital Gallery" to bring creativity, energy, and cutting-edge graphics and digital art to the world's center of communications. For the first time, a dozen signs surrounding Times Square will come together with Times Square Arts to exhibit dynamic, high-quality art at a regularly scheduled time each day.
"The spectacular digital screens of Times Square provide the world's most exciting canvas on which to present creative content," said Alan High, chairman of TSAC and president & general manager of the Clear Channel Spectacolor and Clear Channel Malls divisions of its parent company, Clear Channel Outdoor. "This is the first time that multiple screens have dedicated time to displaying such content simultaneously, and we believe the impact will be exhilarating."
"Times Square Moment: A Digital Gallery" previews on April 1, 2012 at 11:57 pm with Big Bang 01, a film created by Ori Gersht. The following digital screens are expected to participate in the preview, which will roll out over several weeks and launch May 1: ABC Super Sign, American Eagle, Clear Channel Spectacolor, Disney, NASDAQ, SL Green Realty and Orange Barrel Media, and Thomson Reuters. The signs will continue to run the content every evening at 11:57 pm, with several screens displaying Gersht's work at additional times during the day/evening.
"The Times Square Moment: A Digital Gallery" literally takes the Alliance's public art program to new heights, providing a spectacular and truly unique venue for the display of innovative art," said Tim Tompkins, President of the Times Square Alliance. "This is an astonishing act of leadership from TSAC that honors the arts community."
The curation of original graphic and video art will be solicited and chosen by a new selection committee composed of artists, designers, and members of the Times Square advertising community in cooperation with Times Square Arts. The committee will solicit proposals from a broad range of established and emerging talent in the artistic, creative, and academic communities.
The Times Square Advertising Coalition and Times Square Alliance will post guidelines for participation in the program at the Times Square Web site on May 1. All inquiries relating to content should be directed to [email protected] and must include TIMES SQUARE MOMENT in the subject line of the email to receive updates.
Selected works will be announced in the weeks preceding the start of a new show, along with additional details about the participating signs and the exact times of the show.