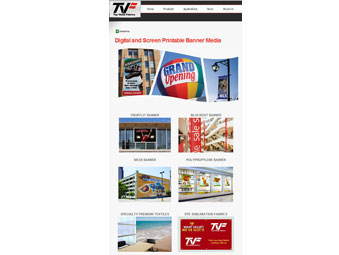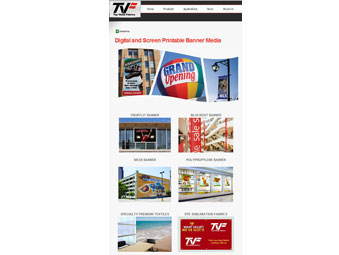 Top Value Fabrics announced today the launch of a new Print Media category website to better serve customers and prospective customers. At TopValueFabrics.com/digital-and-screen-printable-banner-media.html, the company's new subsite features enhanced product information and application images for all printable banner product lines.
"Our new subsite for print media was developed with a focus on our customers," said Chris Fredericks, President of Top Value Fabrics. "We offer an extensive selection of media, and our goal is to make it even easier to do business with us. The new site is a reflection of our dedication to our current customers and to our growth in this market."
Lorna D'Alessio, Director of Print Media Sales, added, "We're continuously expanding our product line to satisfy customers' core needs and to support their growth into new markets. It's gratifying to broaden alternatives with cutting edge technology, while remaining mindful of the competitive market. Our flexible substrates for digital and screen printing have been welcomed as consistently superior in print quality, and additional regional warehousing will further strengthen our service. Our increased presence on the web will help us to enhance our customers' experiences as we grow our companies together."
Features of the new site include improved ease of navigation and greater depth of product information across all product lines. These product lines are Frontlit, Blockout, Mesh, Polypropylene, Specialty Premium Textiles, and Dye Sublimation. Visitors can also request information and contact individual sales consultants through the site, and sign up for the company's Insiders email marketing newsletter.