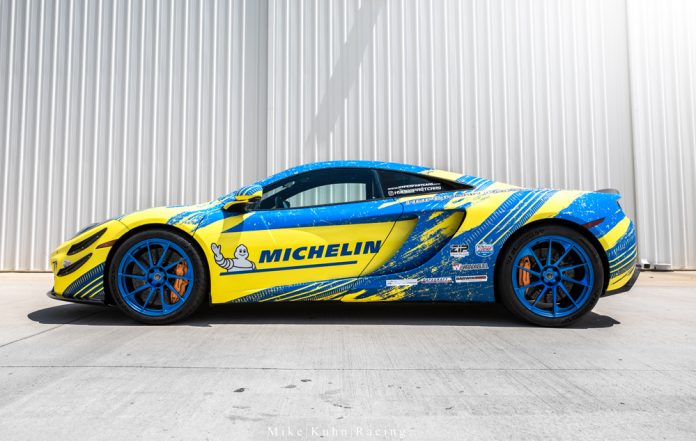 One of the most profound advertising mediums nowadays is the vehicle. Because of its mobility, a vehicle provides an excellent means of getting a company's name, product, or event all the attention it deserves.
One of the more impactful methods of transportation advertising is vehicle wrapping, which integrates mobile advertising, promotions, and event marketing to deliver high-impact and precisely targeted messages when and where it counts.
These "moving" billboards, with wide format-printed, pressure-sensitive films adhered to the body of a car, bus, truck, or van, are playing a key role in the booming global advertising market.
As evidence, just ask Chris Bull, owner of Wrapabull, a car vinyl graphics specialist based in South Carolina.
Bull founded his company almost six years ago as a full-service print and sign shop focusing on high-end and high-quality vehicle wraps.
"I started in this industry in 1994 working for a large national sign shop franchise, and I wrapped my first vehicle back in 1996," he says. "Today [at Wrapabull], we have five employees and stay booked out about a month-and-a-half consistently."
Wrapabull is also part of the international Paint is Dead network, and Bull's shop is both Avery Dennison-certified and Hexis-certified. In fact, Avery Dennison also uses the Wrapabull facility for their advanced wrap class and certification testing.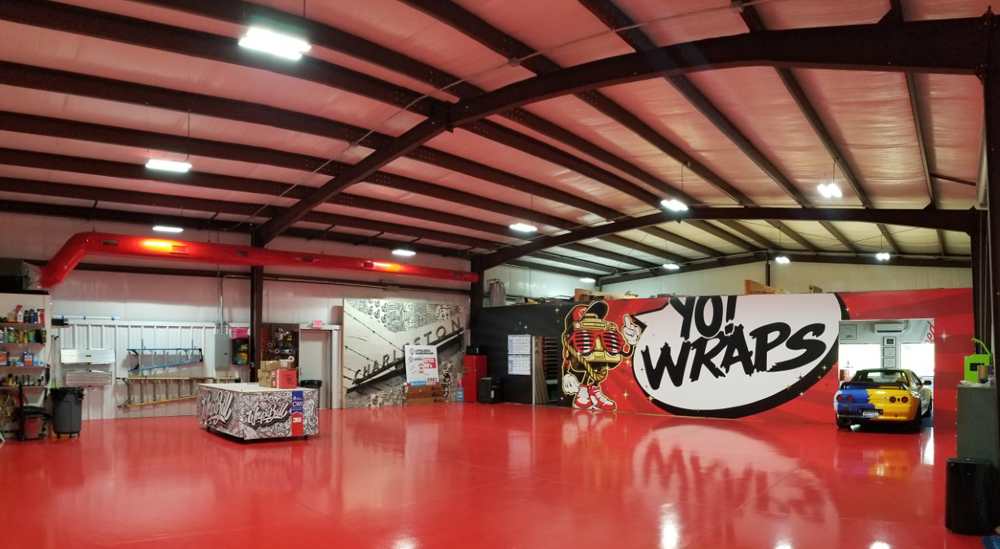 Designs on Wraps
Bull and his team's process for approaching a wrap design is the same for all types of vehicles—whether it's a commercial job or a custom job for a race car or show car.
"You can never have too much information from the client," says Bull, who makes sure to ask plenty of questions about colors, styles customers prefer, logos needed, or any information that may need to be displayed on the wrap.
He also always asks for inspirational photos of things customers have liked online—everything from a vehicle wrap to a music video to an advertisement.
"If it's a commercial vehicle, I ask for any brand guidelines or specs from the business. This way, I can see what they like and their style," says Bull.
When designing vehicle wraps, Bull uses Adobe Illustrator® and Photoshop® together. "I think each program handles different aspects of the design process better," he says. "I will also use 'time and true' pencil and paper to hand draw elements, if needed, then bring them into Illustrator and vectorize and color them.
"We also use techniques like spray paint or texture rubbings on surfaces to create unique elements for a project."
The Wrapabull team also takes photos of the customer's actual vehicle in order to build their own templates to show the customer exactly what the wrap will look like.
"This really helps with boats, trailers, and food trucks, as it's hard to find templates for them," according to Bull. "If it's a standard vehicle, we rely on The Bad Wraps™ templates. I've never had one to be off size, and they give a photo-realistic visual of the finished product. Giving a realistic proof, via a template or actual photos, really helps a person visualize what they're getting."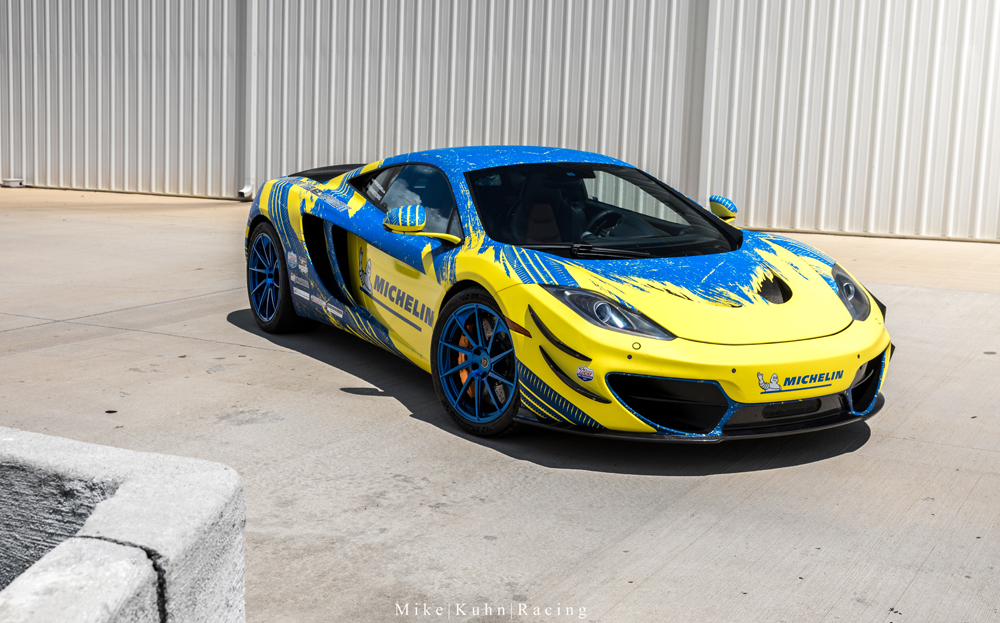 Project: Michelin McLaren 12C
Recently Wrapabull completed a vehicle wrap for the Michelin McLaren 12C. This project involved a Michelin North America-sponsored McLaren build for which they gave Wrapabull full creative freedom.
As Bull explains, the car consists of about five different body panel colors—but you would never know it.
"They wanted to focus on the release of their new PS4S tire, so I recreated a vector drawing of the actual tire tread and used it as a design element," he says. "The car is full print with luster lamination. The yellow door areas are Gloss Yellow film, and all logos are printed reflective film.
"This project landed us a great, long-term relationship, as well as cool projects that we have with Michelin today."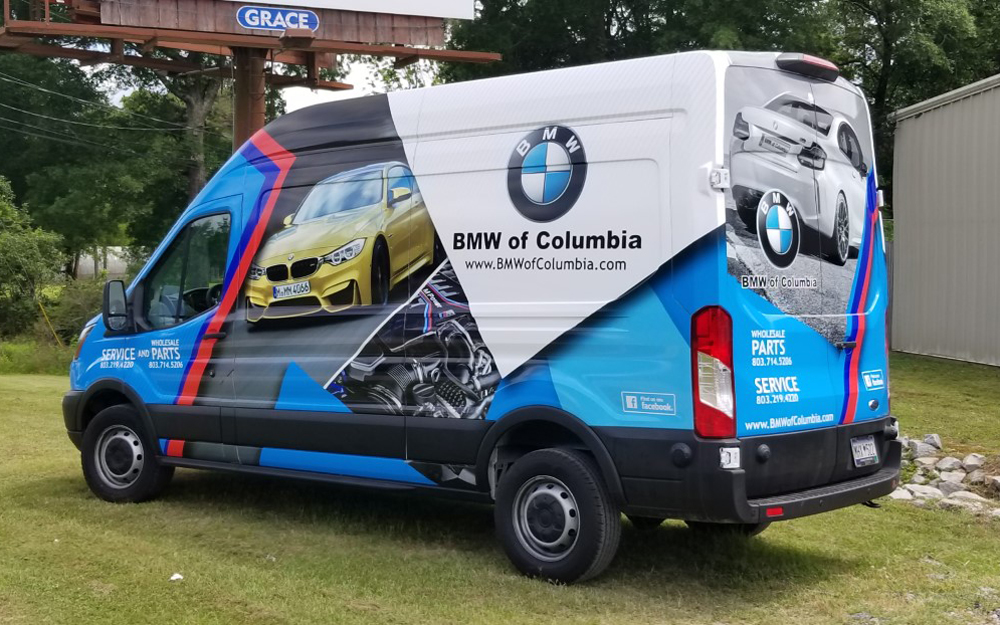 Project: BMW Columbia
Wrapabull also recently worked on the BMW Columbia—a commercial transit parts vehicle.
The dealership came to Wrapabull and wanted basic lettering for their parts van. Bull was able to show them the concept of a very clean, professional design that focused on the BMW brand and managed to upsell them a full coverage wrap.
"I think it gives this dealership a great look and really stands out," Bull says. "After this, we wrapped another vehicle and all the interior doors of their dealership because of the creative approach we took with this design."
Project: Wes Spry Drag Car
Creativity has also been at the center of the vehicle wrap for Wes Spry Racing's drag car—one of Wrapabull's long-term projects. The company has been wrapping this race car for the past four race seasons.
"Wes gives us full creative freedom, as we have gained his trust," says Bull. "He let's us do whatever we want—he just gives us a color scheme to go by."
The first year of wrapping the Wes Spry Race Car, Wrapabull created a full-print red grungy/graffiti-style design with Avery Red Diamond series color film to add "pop" to the design.
A year later, the company designed an abstract blue-and-silver design, printed on 3M silver metallic film, which gave it a near paint-like finish on the race car.
"This year, Wes wanted something dark, so I came up with this black-and-grey abstract design with some red and white pinstripes," Bull says. "Knowing he sometimes races at night, I knew it needed some 'pop.' I had some red reflective pinstripe tape left over that was almost the exact same width of the printed stripe—so we added that and brought this design to life.
"He is a great customer, and this shows what a good and proper design style can do for one's business."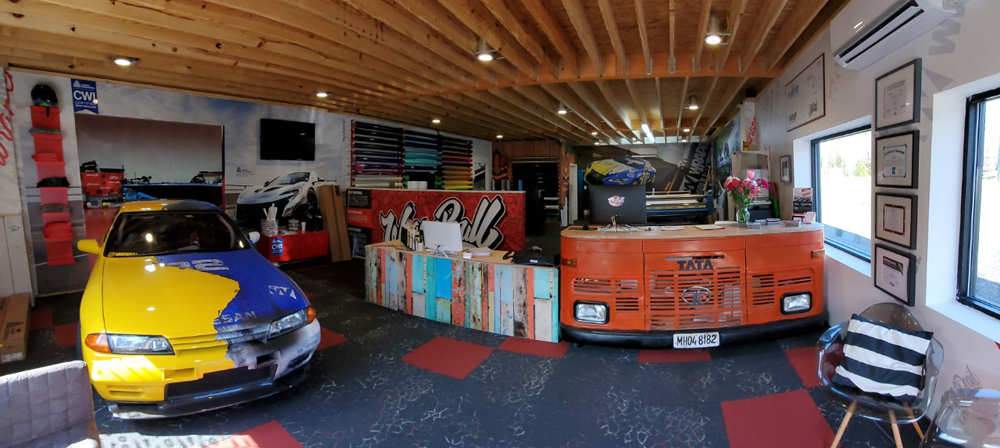 Conclusion
After more than twenty-four years wrapping vehicles, Bull still enjoys working with vehicle wraps because of the diversity offered in the designs.
"I love it when a customer comes in with a concept and they are open to letting me run with it. We literally can create anything," Bull says. "I enjoy taking their idea and just blowing their minds, expanding the concept, and giving them something they couldn't even imagine. I also like mixing medias—mixing printed designs with matte, satin, gloss laminates, or color-change films.
"When people trust you and are open to new ideas—anything is possible."
—Maura Keller