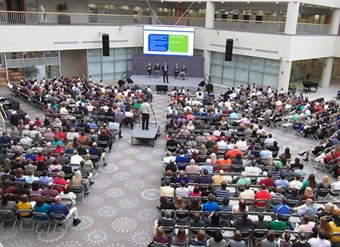 Unum (NYSE – UNM), a leading provider of financial protection benefits in the United States and the United Kingdom, has partnered with Daktronics (Nasdaq – DAKT) of Brookings, South Dakota, to install two HD LED video displays, one at their corporate headquarters in Chattanooga, Tennessee, and the other in their headquarters in Portland, Maine. Each display measures more than 9 feet high-by-nearly 17 feet wide—a total of more than 155 square feet per display.
"The partnership with Daktronics has exceeded my expectations," said Todd Crawford, Director of Unified Communications & Collaborations at Unum. "We had limited time available in December and January to complete the auditorium upgrades prior to our annual all employee Town Hall and employee recognition events. Daktronics' project team expedited the manufacturing, installation and training phases of the project to meet our aggressive schedule. We were extremely excited to start the year with our new 4mm HD LED video walls. The color imagery, clarity and resolution provide a perfect solution for our needs."
The installation in Chattanooga features a large glass atrium with a glass roof in a space used for multiple types of large meetings. The display is on a ground stand that features a Daktronics Vortek hoist system to raise and lower the unit to provide flexibility when hosting various events. Drapes cover the vertical hoist structure to complete the professional look of the atrium.
In Portland, the display will be recessed into the wall and completely finished around it to complete the video-wall appearance. This installation is also in a high ambient light environment with glass walls surrounding the large meeting room.
Both installations replace existing rear projector units that had their images and colors faded and hard to see due to the lighting conditions brought on by the open glass environments. Unum opted to go with an LED option to combat the elements with displays that can cut through the lighting conditions to present clear, vibrant images at all times of day, even in the instance of direct sunlight.
When not being used for meetings and video conferences with other Unum office locations, the displays will show a digital TV feed with things such as time, breaking news, weather, stock ticker, and corporate announcements along with being used for community events that occur at each location.
Employing Surface Mount Device (SMD) technology, which consists of a 3-in-1 LED package, each display will feature more than half a million individual LEDs at exceptionally tight 4 millimeter line spacing. These displays incorporate excellent clarity and contrast to show vibrant images and video.
"Daktronics is proud to partner with Unum on their LED technology upgrades," said Glen Marts with Daktronics. "The harsh sunlight in these two meeting spaces required a display solution with brightness levels that only LED technology could provide. These two 4 millimeter LED displays will provide outstanding image quality to everyone in attendance in Chattanooga and Portland for many years into the future."
Daktronics LED video and messaging display technology offers a long lifetime with minimal maintenance and low power consumption, providing value and excitement for years to come.