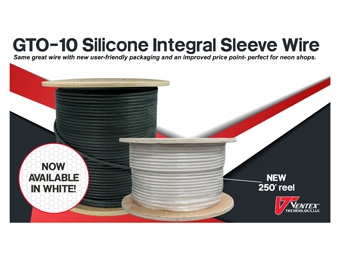 "Previously only available in black 500- and 1,500-foot reels, the GTO-10 wire's new, smaller reel size is perfect for neon shops," said Morgan Crook, general manager of Ventex. "We listened to customer feedback and hope our durable reels and new color option fit their needs."
The GTO-10 is UL approved for use with 12kV electronic transformers. The company also offers its GTO-15 silicone integral sleeve wire in black 250-foot spools. Both products conform to all UL, cUL, and UYTA standards and requirements.
To see all Ventex GTO wire options, visit www.ventextech.com.