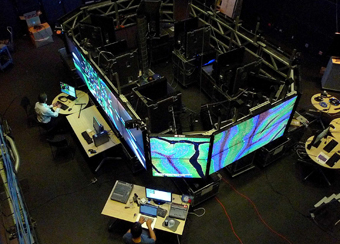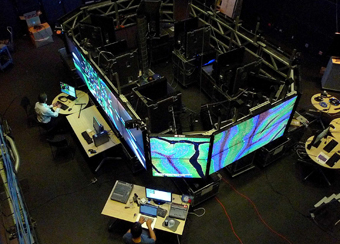 The University of California at San Diego (UCSD) uses
NEC
displays for a unique purpose. It's California Institute for Telecommunications and Information Technology (Calit2) builds and installs visualization clusters around the world for use at partner universities.
The wall-sized visualization facilities, or clusters, are called "OptIPortables," and they are used to display resolutions ten to 100 times that of a normal PC. The OptIPortables allow for video conferencing and visualization of large-sized data sets. Calit2's global research teams use the OptIPortables to foster multidisciplinary studies and collaborate through the Internet with the common goal of taking ideas beyond theory and into practice to accelerate innovation.
Traditionally, a basic OptIPortable consists of four, 46-inch, one-megapixel screens on wheels and a separate sixty-inch screen for video conferencing.
"Many of our digital tiled display walls in recent years were built from NEC panels because they have consistently offered the narrowest bezels we could purchase at the time, a critical issue for viewing super-high-resolution imagery," said Thomas A. DeFanti, director of visualization for Calit2 at UCSD. "A major concern for our installations is the availability of the displays in the size categories that we need."
With the advent and transition to 3D systems, Calit2 needed new and robust displays. So it purchased another ten, 46-inch X462UN ultra-narrow LCD displays. The screens form a new room called the Virtual Room or Vroom. It houses three large walls of stacked OptIPortables—one of which includes eight 2-by-2 OptIPortables that are comprised of 32 X462UN displays. When combined, it becomes a 2-by-16 wall configured in an outward-facing square.
"The new Vroom video wall has enabled our researchers and their students to take their collaboration capability to a new level and has challenged them to explore new areas of information technology with a completely immersive mixed media environment," said DeFanti. "The ultra-high-resolution imagery and interactive experience that the wall provides is outstanding."
UCSD is now looking forward to receiving 55-inch X551UN displays to test their resolution and capabilities for future projects.