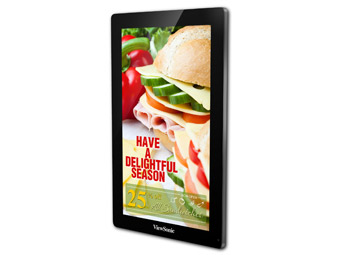 ViewSonic Corporation
(Booth 617) is displaying its digital signage leadership at Digital Signage Expo (DSE) 2011 with the unveiling of fifteen new product solutions including back-to-back and touch-enabled ePosters, extreme wide commercial displays and TVs, and networked media players.
"Our new digital signage solutions are designed to complement today's retail environments while maximizing ROI within high-traffic situations," said Gene Ornstead, director of DTV and business development for ViewSonic. "Today's announcement further expands upon our extensive line up of signage products and solutions for promoting our customers' desired message in the most captivating light possible."
ePoster POS electronic signboards
Now available in sizes ranging from 10 inches-70 inches, all of ViewSonic's ePoster POS digital signboards feature tempered glass faceplates and are ideal for showcasing high-definition video and precision photos in storefronts, showrooms, and other high-traffic retail areas.
For those that desire to reach customers from all angles, ViewSonic offers its new back-to-back ePoster displays. The 55-inch screen EP5555T not only has back-to-back displays, but it includes touch capacity on one side, as well. The dual-sided EP5555T features two 1920×1080 panels for double the impact, along with 2GB of internal memory, a built-in media player, and two 5W speakers for each screen. Teamed with 500 nits of brightness and a 5,000:1 contrast ratio, the EP5555T offers all the features a retailer could want. For a slightly smaller solution, the 46″ EP4646T offers all the functionality of the EP5555T at 450 nits.
For those that prefer a single display but still want the touch capacity, ViewSonic offers the 55-inch EP5502T and 46-inch EP4602T. The EP5502T has a 1920×1080 screen, 2GB of internal memory, and two 5W speakers, plus 500 nits of brightness and a 5,000:1 contrast ratio. Teamed with a convenient USB port, the EP5502T makes it easy to switch out displayed content. The EP4602T also offers a 1920×1080 display, with 450 nits and a 4000:1 contrast ratio, in addition to a built-in RISC media player and dual 5W speakers.
Ensuring customers have the proper sized e-Poster solutions for any space, ViewSonic also offers the 22-inch EP2202r and the 70-inch EP7002. The EP2202r features an embedded RISC media player, 2GB of internal storage, and an RJ45 port for easy content updates. The EP7002 has a 1920×1080 screen, 2GB of internal memory and two 5W speakers, plus 600 nits of brightness and a contrast ratio of 2,000:1. The 70-inch also includes an internal RISC media player and convenient USB for content loading.
Extreme Wide EW-40 Series commercial displays
Perfect for close up messaging wherever retail space is at a premium, ViewSonic's four new extreme wide series commercial displays are sure to grab customer attention. All of these VESA mountable displays feature 1,000 nits for high brightness and a long life span of up to 70,000 hours to fit with a store's POS needs in shapes. These wide and narrow span pixel displays are available in sizes from 16 inches and 19 inches (EW1660 and EW1930) to 38 inches (EW3840) with VGA ports standard and additional DVI ports on the 29-inch EW2960 and 38-inch EW3840. The extreme wide EW-40 series will be available in Q2 2011.
VT3205LED commercial / hospitality TV
Ideal for everything from hospitality installations to sports bars, the 32-inch VT3205LED automates the viewing experience. This commercial TV offers connectivity at its finest with its ATSC/ QAM HDTV tuner, three HDMI ports, plus VGA and USB inputs. Perfect for any hotel room, the VT3205LED has an RS232 port and features programmable TV set up menu options. Owners can feed personalized content into the signal or set TV default settings to welcome their customers or guests. Additionally, the TV can be mounted in a horizontal or vertical orientation to fit with any room aesthetics. Teamed with LED backlighting technology, this eco-friendly TV makes a fantastic addition to any business application. The VT3205LED will be available this month.
NMP-640 X86-bsed media player
All of ViewSonic's ePosters, commercial displays and commercial TVs can be seamlessly partnered with any networked media player, such as the new X86-based NMP-640. This PC-based player features an Intel® Atom™ D525 Dual Core 1.8GHz processor with an NVIDIA® GT218 ION 2 Chipset. The device also includes 2GB of internal memory and an Ethernet RJ45 port, along with optional Wi-Fi and an embedded Windows® 7 Professional OS. The NMP-640 will be available this month.
Image reprinted with permission from ViewSonic Corporation.