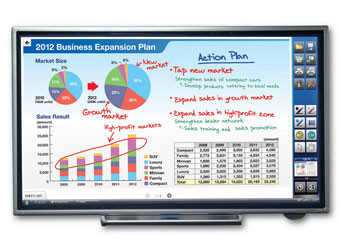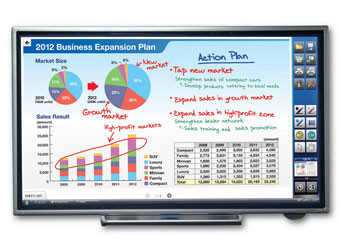 ViewSonic Corp., a leading global provider of computing, consumer electronics, and communications solutions, announces new additions to its LED commercial display family: the CDP7030-TL, a 70-inch interactive LED display; as well as a 42-inch CDP4237-L, 47-inch CDP4737-L, and 55-inch CDP5537-L sized models. Launched at Digital Signage Expo (DSE) 2012, the four displays provide businesses seeking stunning full HD resolution digital solutions with the ideal combination of features for all digital signage environments, including video conferencing, hospitality, wayfinding, and advertising.
"Consumers are engaging with digital media in many different form factors today and in response, display technology has evolved to suit the needs of these consumers. ViewSonic's one-of-a-kind CDP7030-TL display is just one example of how we're incorporating touch with visually stunning viewing experiences to provide businesses with the latest technology to meet the demand of customers," said Gene Ornstead, director, DTV and business development at ViewSonic.
Keeping energy savings in mind, the CDP7030-TL delivers ultra low power consumption at just 240W – an impressive figure for a 1920×1080 LED backlight array. Advanced touchscreen functionality allows easy writing and gesture operation with dual-touch, powered by a Windows® 7 operating system. Users of the large display can operate the screen with the included stylus pen or a simple swipe of fingertips.
For those who prefer the included stylus pen, ViewSonic bundled advanced software within the display to facilitate better meetings and presentations. The thickness and color of output from the pen is easily changed and documents can be converted into images for use on the screen. Once a meeting or presentation is complete, users are able to quickly print and save the content found and created on the display.
For smaller retail spaces, ViewSonic's CDP4237-L, CDP4737-L and CDP5537-L – at 42-inch, 47-inch, and 55-inch respectively – feature full HD 1920x1080p IPS panel technology delivering wide viewing angles, fast 120Hz frame rate response time and dynamic 50,000:1 contrast ratios. Each unit has a built-in media player that supports USB loading of movies, JPEGs and music and versatile HDMI, DVI, VGA and Display Port inputs. Paired with energy saving LED panels, these displays are the perfect solutions for a businesses' digital signage application.
The CDP7030-TL, CDP4237-L, CDP4737-L and CDP5537-L will be available in Q2. MSRP for each unit is $6,499, $1,499, $1,799 and $2,899 respectively.