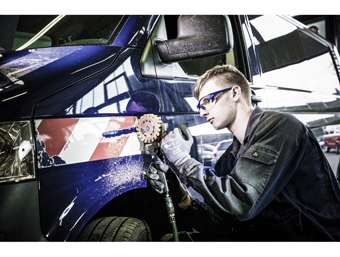 It's more than two decades ago that the German company MONTI – Werkzeuge GmbH implemented the MBX® technology. Shortly after the successful start the range of functions has been extended which leads to the hour of birth for the first Vinyl Zapper®: A high-performance tool which was specially developed for adhesive and vinyl removal in the sign and automotive industry.
Application
The patented Vinyl Zapper removes vinyl, adhesive residues, reflecting foils, stickers, pin-stripes and double-sided adhesive tape from acrylic paints on metal surfaces, wood, aluminum, as well as adhesive residues from moldings—and the amazing result is: no damage of paintwork. The "rubber" is suitable for use on water-based paints, glass fiber-reinforced plastics, plexiglass, and acrylic glass.
The big difference to other methods of vinyl removal is that the Vinyl Zapper operates with a "peeling motion" and not with "rubbing" techniques. The result is that the tool doesn't care about the age of the film: whether one-year- or eighteen-year-old decals; the vinyl can be stripped away in seconds—with no leftover residue.
Furthermore the quality of film does not play an important role; the Vinyl Zapper removes the "good stuff" as well as the "cheap stuff" similarly.
Technical Advantages
The Vinyl Zapper comes in two versions: a pneumatic and an electric one. The pneumatic model has only a weight of 2.2 pounds and is some kind of "fixed" to the air compressor. The electric version is, with its 4.8 pounds, heavier but is in return, "portable." In combination with the constant working speed, a high degree of work safety as well as flexible handling is guaranteed for both versions.
Besides the high operation and faster working speed leads to a high cleaning-effect: multiple layers are removed in one single step. Due to the air cushion effect occurring when rotating the Vinyl Zapper runs vibration-free and smooth means that the handling is quite easy and not harmful after longer applications. Additionally the air-filled spaces between the rubber segments produce a ventilation effect and avoid heat production ensuring that there is no damage to the paintwork and no smearing on the surface.
In contrast to one's assumption the rubber segments do not break: Thanks to the improved and patented design the flexibility of the segments is guaranteed (correct handling assumed). From a healthy basis, the Vinyl Zapper is safe and neutral, as the tool is conform to the Regulation (EC) No. 1907/2006 concerning the Registration, Evaluation, Authorization and Registration of Chemicals (REACH).
To learn more about the Vinyl Zapper or for direct purchase, visit MONTI at this year's ISA International Sign Expo in Orlando, Florida from April 20-23, 2016 at booth #1151.