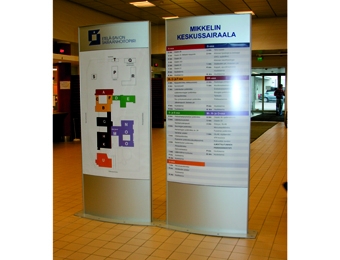 Vista System, a world leader in wayfinding signage systems, introduces "VISTA LINES" – Sign Solutions for Specific Business Segments. The idea behind Vista Lines is to give project managers, architects, designers, and decision makers an effective tool when adapting a wayfinding system for their specific project needs. Vista Lines includes a Healthcare Line, Management Line, Gym Line, Library Line, Railway Line, and a Hotel Line.
This month, the Vista Healthcare Line was installed at Mikkelin Keskussairaala Hospital in Finland, as part of a general 'face-lift' which the hospital has undergone.
Fresh, modern, and easily updated signs were in demand by the end-user, and Vista System (through one of its Finland-based customers) rose to the challenge and supplied 180 different signs for the distinctive way-finding requirements, aimed at providing easier access for patients and families between hospital wards and hallways.
A selection of suspended signs, wall signs, directories and pylons were chosen; new, simple and easy to read graphics were added to the signs; and the whole project from idea to execution took four months to complete.
Vista System reinforces its exposé of Vista Lines as part of its "complete solutions for the entire project" vision.