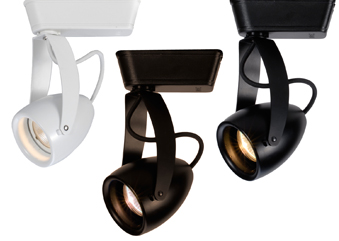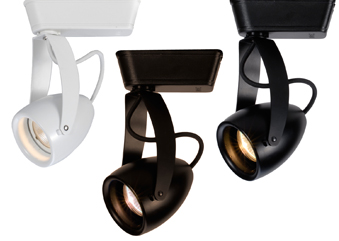 WAC Lighting
's new Impulse uses an integrated multi-chip LED spot or low-voltage MR16 lamps. Robustly engineered from solid die-cast aluminum, Impulse is a thermally efficient luminaire offering architectural lighting options. Additional optical beam spread and color temperature selections make this luminaire an all-in-one choice for lighting professionals.
The Energy Star compliant luminaire uses a 12-watt multi-chip LED that offers a 50,000-hour potential life from ANSI compliant warm/neutral bins for optimal color consistency. Multi-chip technology improves thermal management and heat dissipation while centralizing the light source with one replaceable 12-watt LED module rather than multiple LEDs. The technology enables the user to change beam spreads (24 or 32 degrees) and optics by changing reflectors while delivering a higher lumen output (up to 543 lumens) than a 50-watt MR16 while using 80 percent less power consumption with a CRI (Color Rendering Index) of 80.
In addition to operating with an LED, Impulse is available with a low voltage MR16 halogen lamp that provides a more powerful light source than a standard incandescent. A clear lens is included, however, other options are available for optimal light control.
Dimmable with an electronic low voltage dimmer, Impulse operates on WAC Lighting's 120-volt Standard Track Systems, as well as popular tracks in the industry.
Hardware is available in handsome, rich finishes, including Black, Dark Bronze and White, to coordinate with a variety of decors. Impulse is 7 ¼ inches tall, 3 1/8 inches wide and 5 6/8 inches deep, and it has a five-year warranty.