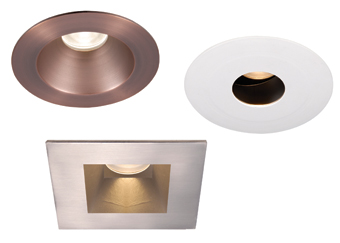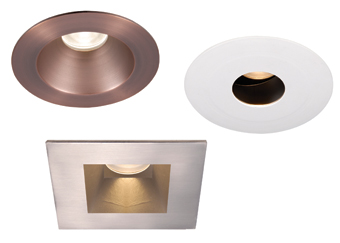 Using similar design innovation that propelled its miniature halogen technology to the industry forefront,
WAC Lighting
launches Tesla™ High Output Recessed Downlights for a variety of residential, hospitality, retail and commercial applications.
Offered with 2 and 3.5-inch apertures, Tesla™ High Output LED Downlights offer a variety of styles and optics, including spot (15 degree angle), narrow (26 degree angle), and flood (45 degree angle) beam spreads. These sophisticated luminaires deliver the same lumen output (up to 560 lumens for a 2-inch style and up to 812 lumens for a 3.5-inch model) as 50-watt MR16 halogen luminaires while using 60 percent less power.
WAC Lighting's Tesla™ Downlights utilize the latest energy-efficient LED technology for optimal thermal management and heat dissipation, and offer a potential LED life of 50,000 hours. The luminaires can be dimmed to one percent with an electronic low voltage dimmer.
Designed with a low profile trim that is constructed of die cast aluminum, the downlights are available in a color temperature of Warm White 3000K with a CRI (color rendering index) of 85 or a Neutral White 4000K with a CRI of 82.
The luminaires are offered with a replaceable LED module and reflector.
Both the 2 and 3.5-inch downlights are available in the round and square Open Reflector, Adjustable Reflector, and Wall Wash trim styles, as well as the Shower Trim. The 3.5 luminaire is also available in an Adjustable Pinhole style.
The Tesla™ High Output Recessed Downlights operate on 120-volt or 277-volt electrical systems, and offer an emergency battery backup option to maintain lighting during power outages.
Three designer finishes available including Brushed Nickel, Copper Bronze, and White.
IC-rated airtight housings are available for new construction projects while non-IC rated airtight housings are offered for remodeling installations.