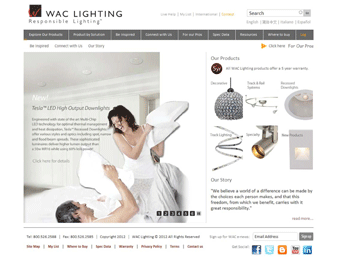 Raising the bar for lighting content with new determination and vision, WAC Lighting President Shelley Wald has announced the re-launch of its Web site (www.waclighting.com) with the latest upgrades and user-friendly technology.
"With more than two years of research and development, our new site reveals a fresh feel and sophisticated approach that we hope will appeal to the needs and preferences of our customers and lighting professionals," explained Wald. "Our objective is to engage our Web site visitors by making the site interactive and, concurrently, to grow relationships by providing the service and benefits that the industry has come to expect from WAC."
The new Web site was enhanced with many new high tech, and yet, user-friendly upgrades:
* A complete redesign with a spacious layout and clean look, including an intuitive navigation program and an appealing menu structure.
* Drupal technology that enhances search capabilities by styles/applications, products, families or light sources and ease of maintenance.
* Multi-lingual options offered in English, Chinese, Italian and Spanish for WAC's global audience.
* "Live Help" feature to answer any questions that site visitors have, whether they are technical support or otherwise.
* "Explore Our Products" section featuring WAC's complete product offering, including Decorative, Recessed, Track, Rail, Step/Wall Lights and Specialty Lighting. Zoom in feature adds a 3-D feel to show the product up-close-and-personal. Product Filter by style, lamp source, color, and more. A drop-down filter added for easier navigation and search of desired components.
* "Be Inspired" section featuring Case Studies, a Lighting Designer Spotlight, Customer Testimonials, and a World Project portfolio of installation photos demonstrating lighting fixtures used for residential, retail, hospitality, institutional, commercial and architectural applications.
* "Get Connected" section featuring contact info, corporate and industry events, a Social Media Tab to link visitors to WAC's Blog, Twitter, Facebook and other social media pages, and the Our Story tab defining the elements of WAC's Responsible Lighting brand standard.
* "For Our Pros" section includes Architectural Products, an Energy Saver Calculator to compare energy efficient products with other light sources, a Lighting Glossary featuring a comprehensive list of lighting terms and definitions, Lighting Layout Assistance, WAC University which offers training information, Spec Data, and a New Mobile App.
* "Spec Data" section calls out detailed product specification sheets in a new sophisticated format, instruction sheets and IES files.
* "Resources" section including FAQs (frequently asked questions, with answers) about the WAC product line and applications, Advertisements and on-line Editorials, Press Releases, Videos demonstrating new products, technologies and installation tips, and new Literature including product catalogs and brochures.
* "Where to Buy" to help consumers find local electrical distributors, lighting showrooms and Internet resources. Redesigned Customer "Log in" as a portal to all WAC Partners' needs.
* Product Reviews to share customer comments and suggestions concerning individual products.
"Our new Web site will become the primary tool to educate the public about the WAC brand, and enable designers and specifiers to have all the tools they need in using our product," continued Ms. Wald. "The new site is superior, a cyber entity that will be updated and upgraded with new content and rich media on a 24/7 basis. As our industry continues to change at a rapid pace, so will our Web site in order to constantly keep pace with new technology and information."
WAC Lighting is a leading global manufacturer and innovative designer of lighting for Luxury Residential, Commercial, Hospitality, Institutional, Retail, and Architectural applications, specializing in track, recessed, under cabinet, monorail, and decorative lighting, with a new sustainable LED collection.
WAC has developed a stellar reputation for upscale decorative and task lighting lines backed by an extraordinary level of service, an unprecedented shipping record, and a Five Year Product Warranty. To reflect Green energy saving strategies, social progress and community involvement, WAC uses the brand standard "Responsible Lighting" that reflects the company's holistic approach to business, encompassing a deep commitment to responsible eco-friendly manufacturing, extensive research/development, energy saving technology, and altruism.
WAC offers a broad range of award-winning products: Low/Line Voltage Track and Rail Systems; Low/Line Voltage Recessed Downlights; InvisiLED®, LED tape systems for indoor and outdoor applications; Artisanal Glass Pendants and Wall Sconces; LED Fixtures and Pendants; Display Lighting; LEDme® Step and Wall Lights; and SMART Transformers. Nearly 90 percent of WAC Lighting LED products are fabricated, to a component level, within its facilities in the US and a wholly owned zero-landfill manufacturing campus in China.
For more information, call 800/526-2588 or visit www.waclighting.com.
Become a Facebook Fan at: http://www.facebook.com/waclighting.page.
Follow WAC on Twitter at: http://twitter.com/waclighting.
Follow WAC on YouTube at: http://www.youtube.com/user/WACLighting.