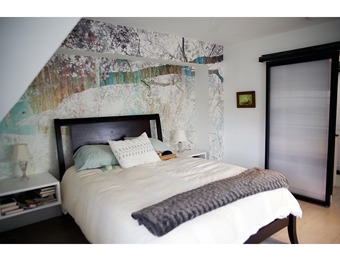 Julia Blaukopf, a photographer, artist, and designer, needed to find a solution when one of her past photographic wallcovering projects started to bubble and peel. The original project, located in a bedroom in Philadelphia, was recently redesigned by Metcalfe Architecture & Design. The project was digitally printed on a 100 percent recyclable DuPont Tyvek and installed using wallpaper paste.
After one year, the wallpaper had significant bubbling. She needed to find a solution quickly to remedy the situation.
Julia worked with Presto's material on a project called The Shirt Corner. She really enjoyed working with Presto and hoped that they would be able to help her find a solution. She tested Presto's newest material WallFab, a 15-mil smooth canvas with a repositionable adhesive.
Julia and her client loved the texture and durability. "Presto's materials are both beautiful, unique, and sturdy. I can always depend on Presto to supply the highest quality, long-lasting materials. Since this project was a re-do of a previous, bubbling wallpaper, it was important to use a dependable wall covering" says Julia.
After removing the previous failed wallcovering, Julia's installer prepared the wall with a wall primer, leaving it primed and smooth for the reinstall. The 11-by-18-foot WallFab wallcovering was printed on the HP 360 latex printer. The image is a photo-based collage, depicting a view of trees from below.
Julia created the piece using layers of photographs to achieve a brilliant color palette of turquoise and gold. The clients wanted to feel as though they were sleeping below a magical treescape. One image extends from the hallway to the bedroom, divided by a frosted glass sliding door.
The WallFab wallcovering was installed with a 1.5-inch overlap, and first-time installer of WallFab, Steven Earl Weber, had no issues with the material. The customer was thrilled with the reinstall wallcovering using WallFab.
To learn more about WallFab go to www.prestotape.com.