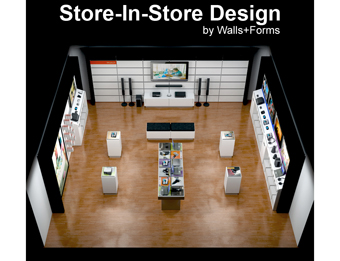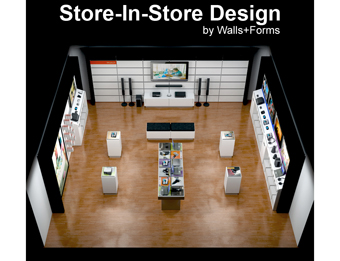 Walls + Forms, Inc., an innovator in store interiors, displays, wall systems, and signage, will be featuring its Shop n Shop capabilities at its Booth #4311 of GlobalShop, which runs from April 16 to 18, 2013 at McCormick Place in Chicago.
Shop n Shop enables you to define your retail space with unique modular systems. It capitalizes on the vast engineering and modular design experience of Walls + Forms. Industries that benefit from the modular Shop n Shop include wireless, electronic, government/military, clothing, and soft/hard line retail; fitting rooms; franchises; and more.
Walls + Forms will show how simple it is for contractors or unskilled labor to design their own Shop n Shop with little more than a level and a drill. It enables you to setup temporary departments, add panel frames where and when needed, and configure wall and panel frames over and around existing obstructions. There are no complicated parts to worry about and it is designed for change.
Shop n Shop is affordable based on cost, plus it saves up to 60 percent of man-hours during installation. It is flexible; it is easy to install, easy to assemble / dismantle and reconfigure as needs change.
Shop n Shop enables you to easily change the look of the store in minutes. With this kind of flexibility comes the freedom to change a wall to promote a sales event, open a new themed department for a particular brand, change an entire store to the new season's colors, or relocate a whole department; all without involving any contractors or outside labor.
For more information, call 972/745-0800 or visit www.wallsforms.com.