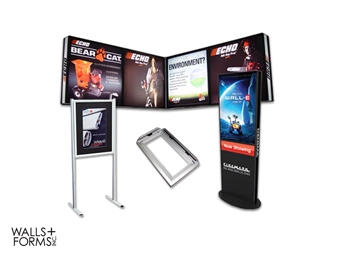 Walls + Forms, Inc, now offers its widest variety ever of in-stock, ready-to-ship signware solutions. For the "do it yourselfer", they offer a multitude of signware components in stock sizes and colors/finishes. Custom signware can also be produced to the desired specifications.
The company offers the highest quality retail signage solutions, including SnapFrame Display Solutions, a versatile Versaflex Framing System, and illuminated displays including LightBoxes, Double J Stand and Euro Stand, and accessories for merchandising needs.
Walls + Forms offers high-impact signware for walls, ceilings, and floor indoor applications plus outdoor use. These include signage SnapFrame Solutions for displaying target messages, graphics, and announcements; these are space-saving and user-friendly solutions for display needs in temporary and permanent stores, offices, and business centers.
Signage frames include 2-Way Frame, 4-Way Frame, Display Frame, Marquee Frame, Sekure Frame, and Wind Frame.
Standalone floor stands for all graphical needs in stores, malls, or every fast installation site are also available. They include Double J Stand, Euro Stand, Banner Stand, Double-Sided Advertising Floor Stand, Folding Frame, Graphic Stand and Folding Tables.
The cost-effective and versatile "Lights Alive" Illuminated Display System and Versaflex Framing System give you a multitude of options at the point of sale. These exclusive display and framing systems allow for production of high quality light boxes inexpensively. They include Backlit Floor Stand Displays, Double-Sided LightBox, Ceiling Mounted Light Thief, and Single-Sided LightBox Contour Finish.
Walls + Forms also has sign holders for graphic and text internal and customer communication in offices, commerce, and stores. They include Graphic Holders and Bulletin Sign Holders.
The company even has Scopic Telescopic Displays that include "freestanding" and "floor to ceiling" display pole options to suit available in-store retail space, a variety of based to suit your display application, and floor to ceiling pole displays which are especially useful where low height ceilings are available.
For further information, visit www.wallsforms.com/signage-products.