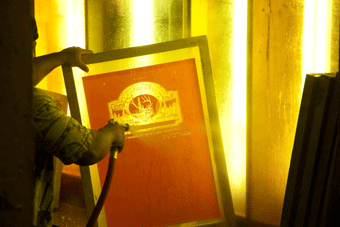 Wasatch SoftRIP is helping SansÉgal, a full service design and apparel company in Sandy, Utah, control their halftoning options and automate their workflow. When they first opened their doors in 1978, SansÉgal was a small screen print shop. Since then, they've expanded their product offerings, increased their workforce, enlarged their shop, and become a powerhouse in the industry. With powerful and customizable solutions from Wasatch, SansÉgal has been able to tailor a production workflow that helps them save time, money, and materials.
Precise Control
During the screen printing process, having control of halftoning options is of utmost importance to SansÉgal. The innovative features in Wasatch SoftRIP SP, such as Wasatch Precision Rosette Screens, Separations mode, and Press Curves, combine to deliver the perfect inkjet separations tool for SansÉgal. SoftRIP SP's Precision Rosette Hybrid Screens have also been very useful in their production process. "The controls are easy to understand and use," says Eric Hansen, Graphic Artist. "I've noticed an increase in detail and that's really important for us."
Wasatch's Precision Rosette Hybrid Screens transition from AM to FM methods at a minimum dot size. At densities above or below these thresholds, dots are held to that minimum size, and density is reproduced by removing dots in an FM or "stochastic" pattern.
This technique can be used to eliminate the "highlight break" that occurs in screen printing due to physical issues with small dots. It can also be used to eliminate "plugged holes" in the shadow areas of inkjet separations.
Hot Off to Press
To automate the production of their inkjet separations, SansÉgal uses SoftRIP's powerful hot folders. This dynamic feature allows them to determine how their files will automatically be processed once they are placed in the hot folder. They can add files to the RIP queue, RIP their files, or RIP & Print their files. They can also rotate, mirror, or scale any images that are placed in the hot folder. With so many options to choose from, they have complete control over their production workflow.
"Once the hot folders are set up to our liking, our workflow becomes quick and efficient," explains Eric. Because their production process is streamlined, and the need for user interaction is minimized, SansÉgal has been able to decrease mistakes and film waste.
A Reliable RIP
To handle all their screen printing needs, SansÉgal needed a RIP that was easy-to-learn, reliable, and powerful. Wasatch SoftRIP fit the bill on all counts. "SoftRIP has powerful features, but it's still easy to use," says Joyce Walton, VP of Operations. "It's been very easy to train new employees to use the software and that means time and money savings."
With its simple setup, intuitive workflow, and powerful print controls, SoftRIP helps SansÉgal produce quality results fast. And, because SoftRIP is so reliable, SansÉgal's production process runs smoothly and efficiently.
About SansÉgal
SansÉgal is a nationally recognized sportswear company that sells directly to, and designs for, corporate retail clients. They offer merchandise in all fifty states, Canada, and four other foreign countries. Their services include screen printing, embroidery, laser etching and cutting, garment design, manufacturing, and importing for the resort, retail, and catalog markets.
SansÉgal started as a small screen printing business in 1978 and has grown into a large, multi-faceted company (225 employees work in a 75,000 SF facility) that primarily serves destination resorts. One of SansÉgal's many successes is the offering of Green Brand®, an eco-friendly fabric and garment line made from pre-consumer recycled cotton. In addition to their Green Brand products being environmentally friendly, they also bear a "Made in the USA" label. To learn more, visit www.sansegal.com.