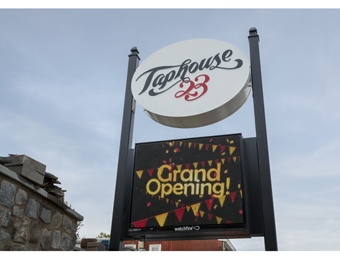 Watchfire has just installed its first 10mm sign, the company's highest resolution display, at the soon to open Taphouse 23 restaurant in Bridgeport, Pennsylvania. The new 10mm LED sign provides the highest resolution display available, showcasing messages, animation, art and video in vivid, true-to-life fashion.
With more LEDs per square foot than any other in the Watchfire line up, the 10mm product is ideal for close-viewing range and smaller applications, including situations when square footage limitations on signage may apply.
The American-made 10mm signs contain fully encapsulated modules that lengthen the expected product life and increase operational up-time. Full silicone encapsulation protects board-mounted electronic components from the effects of moisture, air-borne salts and heat. In addition, the signs include an active front ventilation system to keep components cool and extend product life.
"Since 1932, Watchfire has been going above and beyond to ensure our signs are the highest quality in the world, and our new 10mm product is no exception," said Watchfire's Vice President On-Premise Sales Dave Warns. "Simply put, we have the best looking, easiest to use, longest-lasting signs in the industry, period."
Taphouse 23 has already seen a "tremendous response" to their 10mm sign according to the restaurant's Owner Gary Johnson. "Bridgeport is talking about the new sign like crazy! It has done a fantastic job of getting the word out about the restaurant and I think it's going to do an even better job once we're open," said Johnson.
When the restaurant does open in mid-November, Johnson says the restaurant will use their 10mm sign to advertise their executive chef, specials they'll be serving and events with local charity events. In advance of their opening, they are advertising on the sign to fill open positions at the restaurant.
"The primary reason I choose an LED sign is because I have never found newspaper and other types of advertising to be valuable. Plus, it's the perfect advertising tool for a restaurant with 20,000 cars driving by every day," said Johnson.
On his choice of the 10mm pitch, Johnson said, "I wanted the best." They choose to work with Watchfire on the recommendation of their sign company representative, Steve Braun with Brauns Inc., in Doylestown, Pennsylvania. Braun said Watchfire was "one of the most successful LED sign manufacturers and told us that's who we should be working with," said Johnson.
"We're not just a sign manufacturer," said Warns. "We work exclusively with our dealer network so they can arm their clients with advertising solutions to meet their business needs. The entire Watchfire team back in Illinois is excited to see this incredible new product in action. Danville is proud."
For more information about Watchfire, visit www.watchfiresigns.com.