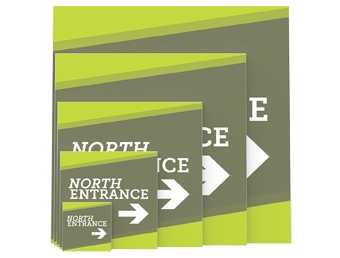 SignPro Systems, the modular wayfinding signage division of Orbus Exhibit & Display Group, is proud to announce the release of a wide range of new wayfinding and directional signage products in its 2015 product catalog, The Sign Makers' Handbook V6.
SignPro Systems' new products span a variety of categories, including towers, suspended and wall signage solutions, outdoor displays, and more.
SignPro Systems introduces the Vector Frame™ Edge Poster system (pictured), featuring a slim, lightweight 3/4-inch aluminum frame and easy-to-apply push-fit fabric graphics to create sleek, modern wall displays. Wall mounting brackets are included and frames are available in five standard square sizes, four standard rectangular sizes and custom options are available.
SignPro introduces the Tri Tower Deluxe, a freestanding, modern-looking triangular display tower. The tower features a durable aluminum extrusion construction, and rigid graphic infill panels. Assembly is quick and easy with a convenient sliding mechanism.
The company also introduces two new suspended signage solutions, Suspended Snap Frame Light Boxes and Left-to-Right Curve SUSP series of frames. Suspension clips quickly and easily transform standard-sized Trappa LED Light Boxes into a suspended, single-sided light box. Left-to-right curve SUSP series frames are available in twenty-four-inch and seventeen-inch widths with custom heights and are ideal for libraries, restaurants or retail environments.
SignPro also introduces the Air Dancer®, an inflatable outdoor display available in ten- and eighteen-foot heights and three color options. Air Dancers inflate easily with the use of an air blower, and are made of a non-rip material for long-lasting, durable displays. With a base footprint under two feet, the Air Dancer is ideal for use in high traffic areas to garner attention and draw interest.
Further details on featured products and the most up-to-date product information in the 2015 edition of The Sign Makers' Handbook can be found online at www.signmakers-handbook.com.