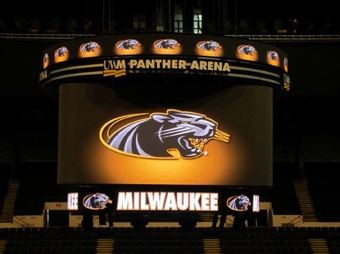 The Wisconsin Center District of Milwaukee, Wisconsin, has partnered with Daktronics of Brookings, South Dakota, to install a new LED centerhung video display in the UW-Milwaukee Panther Arena. The entertainment facility received the display at the end of July.
"The Wisconsin Center District looked forward to partnering with Daktronics on creating a new seamless scoreboard that can produce 360 degree video images. The state-of-the-art scoreboard has also created the ultimate fan experience that can only be viewed at a handful of venues throughout the United States," Wisconsin Center District President and CEO Russ Staerkel said. "We are very pleased with the results, but more importantly the clients and fans are very excited about the added entertainment value our new scoreboard and corner boards, which also have the ability to showcase live video, have brought to the facility."
The main centerhung display measures approximately 10 feet high by 86 feet wide and features 6 millimeter line spacing. This display is able to show one large image to highlight live video and instant replays that can wrap entirely around the scoreboard. It can also be divided into separate windows to show a variety of vivid graphics, colorful animations, up-to-the-minute statistics, scoring information and sponsor advertisements.
The display features two ring displays. The upper ring display measures 2 feet high by 88 feet in circumference and features 10 millimeter line spacing. The lower ring measures two feet high-by-69 feet in circumference and features 10 millimeter line spacing.
Two corner displays measuring 9 feet high by 15.5 feet wide and featuring 10 millimeter line spacing were also added to the Wisconsin Center District. These auxiliary displays are able to showcase live video, feature game information, graphics and sponsors.
All of these displays incorporate excellent image clarity and contrast with wide angle visibility ensuring every fan a great view during any given event.
"Daktronics is excited to be involved with this one-of-a-kind installation," said Joey Hulsebus, Daktronics Sales Representative. "The Wisconsin Center District has been a great partner to Daktronics over the years and we look forward to entertaining fans together."
Daktronics LED video and messaging display technology offers a long lifetime with minimal maintenance and low power consumption, providing value and excitement for years to come.