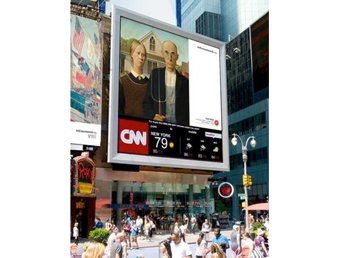 With the push of a button during the morning of August 4, digital billboards across New York's Times Square began to display images of fifty-eight classic and contemporary works of American art, officially marking the start of Art Everywhere US. From now through August 31, as many as 50,000 digital and static displays in all fifty states—billboards on city streets and rural highways, displays on bus shelters and subway platforms, dioramas in airports, videos in health clubs, trailers in movie theaters and more—will present the largest outdoor art show ever conceived, as a nationwide celebration of America's artistic heritage.
The 58 images, which span 230 years of American art, are drawn from the collections of five major museums across the country—the Art Institute of Chicago; the Dallas Museum of Art; the Los Angeles County Museum of Art (LACMA); the National Gallery of Art, Washington, DC; and the Whitney Museum of American Art, New York. The museums have collaborated with the Outdoor Advertising Association of America (OAAA) and its members to present Art Everywhere US with the co-operation of artists, estates, foundations, and rights agencies.
The choice of artworks was informed by a public vote on www.ArtEverywhereUS.org, which now functions as an interactive art gallery. Visitors to the site may retrieve information about the selected works, read about the story of art in the United States, see which works are on advertising displays in their vicinity, and find the locations of specific works around the United States.
Museum Leaders Celebrate the Launch
As the displays went live in Times Square, museum leaders gathered with representatives of OAAA and its members in the Regal E-Walk movie theater on New York's 42nd Street for an event to mark the start of Art Everywhere US.
Nancy Fletcher, President and CEO of the Outdoor Advertising Association of America, was joined by Maxwell L. Anderson, the Eugene McDermott Director, Dallas Museum of Art; Donna De Salvo, Chief Curator and Deputy Director for Programs, Whitney Museum of American Art; Douglas Druick, President and Eloise W. Martin Director, Art Institute of Chicago; Michael Govan, CEO and Wallis Annenberg Director, LACMA; Deborah Ziska, Chief of Press and Public Information, National Gallery of Art; and Richard Reed, co-founder of Innocent Drinks, who originated Art Everywhere in 2013 in the UK.
Nancy Fletcher stated, "Art Everywhere US is the latest and most spectacular chapter in our industry's long history of contributing its resources to the public service. We are deeply grateful to the five museums for enabling us to bring this astonishing survey of America's artistic heritage directly to the people."
Maxwell L. Anderson said, "Thanks to OAAA and its members, a vast new audience is now starting to encounter masterpieces of American art, free of charge, as part of their everyday landscape. In many ways, American art tells the story of our country. On behalf of the Dallas Museum of Art and the four other participating museums, it's wonderful to be able to bring that story out into the public square."
Donna De Salvo said, "The Whitney Museum of American Art is proud to be part of Art Everywhere US, and especially to see it launch in our home city of New York. It is a project that situates extraordinary images by great American artists in the unique cultural landscape that is the United States. It's always exciting to think about encountering art in the course of everyday life, whether inside or outside."
Douglas Druick stated, "Art Everywhere US mingles some of American art's best-known images, such as the Art Institute of Chicago's Nighthawks and American Gothic, with equally great works that will be eye-opening surprises to many people. This is a wonderful opportunity to expand awareness of the riches in all our museums."
Michael Govan stated, "As a Los Angeles institution, LACMA is particularly aware of the iconic significance of the open road in American art and of the role that signs have played in the work of artists such as James Rosenquist and Ed Ruscha. To us, American art history and Art Everywhere US are an ideal combination."
Deborah Ziska said, "As the home of a collection that belongs to the people of the United States, located in the heart of our nation's capital, the National Gallery of Art is delighted to participate in Art Everywhere US, an initiative that helps us and our fellow museums advance our mission of making great art accessible to the public."
Richard Reed stated, "We launched our second season of Art Everywhere in the UK just weeks ago and are thrilled that the US is now joining us in showcasing artworks simultaneously through the end of August. Thanks to the US for taking the Art Everywhere message, building a great campaign, and helping to spread it globally."
A complete list of the fifty-eight works in Art Everywhere US is given below.
Digital and Social Media Bring Art Everywhere US to Life
Art Everywhere US is live on social media channels including Twitter, Facebook, Instagram, and Pinterest. Launching today, an Instagram contest will encourage viewers to post selfies with Art Everywhere US displays using the hashtag #ArtEverywhereUS, and the top ten most creative photos will win a prize from Art Everywhere US.
Adding to the excitement, selected pedestrian-level displays (such as bus shelters and kiosks) will feature Blippar interactive image recognition technology. Using the free Blippar app on any smart phone or mobile device, users can view the artwork through their devices to instantly unlock a wealth of information, including augmented reality experiences, audio guides, artist and museum content, and more.
National Partners Help Bring Art Everywhere US to the People
The following partners have contributed resources to help bring Art Everywhere US to the American public:
+ Acme Poster Advertising
+ Allison Outdoor Advertising
+ Around AV
+ ArtFund
+ ATA
+ ARS
+ Ayuda
+ Barrett Outdoor Communications
+ Blippar
+ Boardworks
+ Branded Cities
+ Bulletin Displays
+ Burkhart Advertising
+ CBS Outdoor
+ CEMUSA
+ Circle Graphics
+ City Outdoor
+ Clear Channel Outdoor
+ Cleveland Outdoor Advertising
+ Dakota Outdoor Advertising
+ DDI Media
+ Do It Outdoors
+ Durden Outdoor Displays
+ Eagle Display Services
+ Elevate Digital
+ Extra Credit Projects
+ Eye Media Corp.
+ Fairway Outdoor
+ Finn Partners
+ Greensigns
+ Hughes Outdoor Media
+ Independent's Service Company
+ Interstate Outdoor
+ JCDecaux
+ Joyce Outdoor Company
+ Kubin Nicholson
+ Lamar Outdoor Advertising
+ Meadow Outdoor Advertising
+ MMT
+ National Cinema Network
+ NMB
+ Norton Outdoor
+ On-Site Insight
+ Outdoor Imaging
+ Outdoor Media Group
+ Porter Advertising
+ Reagan Outdoor Advertising
+ Signal Outdoor
+ Simon Malls
+ Standard Vision
+ Steen Outdoor
+ Stott Outdoor Advertising
+ Streetblimps
+ Titan
+ Total Outdoor
+ Tyler Outdoor Advertising
+ UpStares Media
+ VAGA
+ Van Wagner
+ Vector Media
+ Vital Outdoor Advertising
+ YESCO
+ ZOOM Media
Chronological List of Artworks on Display
01. John Singleton Copley, Watson and the Shark, 1778 (National Gallery of Art)
02. Gilbert Stuart, George Washington, c. 1821 (NGA)
03. Edward Hicks, The Peaceable Kingdom c. 1846-47 (Dallas Museum of Art)
04. Fitz Henry Lane, Boston Harbor, Sunset, 18505 (Los Angeles County Museum of Art)
05. Jasper Francis Cropsey, Autumn on the Hudson, 1860 (NGA)
06. Frederic Edwin Church, The Icebergs, 1861 (DMA)
07. James McNeill Whistler, Symphony in White, No. 1: The White Girl, 1862 (NGA)
08. Thomas Eakins, The Biglin Brothers Racing, 1872 (NGA)
09. Winslow Homer, The Cotton Pickers, 1876 (LACMA)
10. Winslow Homer, Breezing Up (A Fair Wind), 1873-76 (NGA)
11. Thomas Moran, Green River Cliffs, Wyoming, 1881 (NGA)
12. William Michael Harnett, The Old Violin, 1886 (NGA)
13. Martin Johnson Heade, Giant Magnolias on a Blue Velvet Cloth, c. 1890 (NGA)
14. Mary Cassatt, The Child's Bath, 1893 (Art Institute of Chicago)
15. Mary Cassatt, The Boating Party, 1893/94 (NGA)
16. Winslow Homer, The Water Fan, 1898/99 (AIC)
17. John Singer Sargent, Dorothy, 1900 (DMA)
18. John Singer Sargent, The Fountain, Villa Torlonia, Frascati, Italy, 1907 (AIC)
19. Erwin E. Smith, Frank Smith Watering His Horse, Cross-B Ranch, Crosby County, Texas, c. 1909 (DMA)
20. John Singer Sargent, Nonchaloir (Repose), 1911 (NGA)
21. Frank Lloyd Wright, Avery Coonley Playhouse: Triptych Window, 1912 (AIC)
22. George Bellows, Cliff Dwellers, 1913 (LACMA)
23. Childe Hassam, Allies Day, May 1917, 1917 (NGA)
24. Charles Burchfield, Noontide in Late May, 1917 (Whitney Museum of American Art)
25. Imogen Cunningham, Magnolia Blossom, 1925 (LACMA)
26. Charles Demuth, My Egypt, 1927 (WMAA)
27. Grant Wood, American Gothic, 1930 (AIC)
28. Edward Hopper, Early Sunday Morning, 1930 (WMAA)
29. Millard Sheets, Angel's Flight, 1931 (LACMA)
30. Charles Sheeler, Classic Landscape, 1931 (NGA)
31. Emil J. Bisttram, Pueblo Woman, 1932 (DMA)
32. Fannie B. Shaw, The Fannie B. Shaw Prosperity Quilt "Prosperity is Just Around the Corner," 1930-32 (DMA)
33. Georgia O'Keeffe, Summer Days, 1936 (WMAA)
34. Margaret Bourke-White, World's Highest Standard of Living, 1937 (AIC)
35. Joseph Stella, The Brooklyn Bridge: Variation on an Old Theme, 1939 (WMAA)
36. Edward Hopper, Nighthawks, 1942 (AIC)
37. William H. Johnson, Blind Singer, c. 1942 (WMAA)
38. Archibald John Motley, Jr., Nightlife, 1943 (AIC)
39. Ivan Albright, Picture of Dorian Gray, 1943-44 (AIC)
40. Thomas Hart Benton, Poker Night (from A Streetcar Named Desire), 1948 (WMAA)
41. Willem de Kooning, Excavation, 1950 (AIC)
42. George Tooker, The Subway, 1950 (WMAA)
43. Charles Wilbert White, Harvest Talk, 1953 (AIC)
44. Mark Rothko, White Center, 1957 (LACMA)
45. Willem de Kooning, Montauk Highway, 1958 (LACMA)
46. Jasper Johns, Three Flags, 1958 (WMAA)
47. Roy Lichtenstein, Look Mickey, 1961 (NGA)
48. Jasper Johns, Device, 1961-62 (DMA)
49. Roy Lichtenstein, Cold Shoulder, 1963 (LACMA)
50. Andy Warhol, Campbell's Soup Can, 1964 (LACMA)
51. Georgia O'Keeffe, Sky Above Clouds IV, 1965 (AIC)
52. Romare Bearden, Soul Three, 1968 (DMA)
53. Ed Ruscha, Hollywood, 1968 (LACMA)
54. Chuck Close, Phil, 1969 (WMAA)
55. Richard Diebenkorn, Ocean Park No. 29, 1970 (DMA)
56. James Rosenquist, Paper Clip, 1973 (DMA)
57. Robert Mapplethorpe, Ken Moody and Robert Sherman, 1984 (LACMA)
58. Cindy Sherman, Untitled Self-Portrait, 2008 (WMAA)