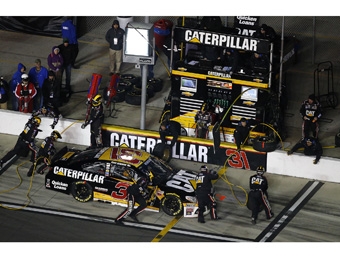 NASCAR kicked off its 2016 season on February 13 at Daytona International Speedway with a stadium full of die-hard fans wildly cheering the waving of the first green flag. While this year's Sprint Cup Series schedule is just getting underway, the prep work actually began in July of 2015 for the Richard Childress Racing (RCR) graphics team. That's when Graphics Manager Nick Woodward and his staff of five started working diligently behind the scenes to design, produce, and install new wraps for RCR's numerous race cars and support vehicles.
"Time is always our number one challenge," notes Woodward. "We start designing the new vehicle wraps for the coming year in mid-summer, and we're up against the clock from that moment on. We have a limited window—typically July through October—to come up with the concepts, get sponsor approval, and develop the designs in Illustrator and Photoshop. Then, once that process is complete, we work at an incredibly fast clip to print and install all the wraps needed for the coming season."
Whereas NASCAR race cars and support vehicles were once painted, teams now use advanced wide-format digital printers to produce vibrant, detailed graphics and wraps quickly and cost effectively. Woodward and his staff of five vehicle wrap specialists rely on seven Roland printers and printer/cutters to get the job done.
"With our Roland printers and fast-drying Eco-Sol MAX 2 inks, we're able to rapidly produce high quality wraps," said Woodward. "We laminate everything that we produce, and in most cases, we do so within an hour of printing."
Over the course of a year, Woodward estimates they'll print over 120,000 square feet of vinyl at the Richard Childress Racing Graphics Center, a 2,500 square foot graphics facility located on the RCR campus in Welcome, North Carolina. "For the most part, we're pumping out prints all day long, all the way up to the racing season. We even run our printers through the night, completely unattended," Woodward added.
Woodward points out that his crew's wrapping responsibilities don't end once the season is underway.
"We need to print and install new wraps for each of our race cars prior to every race," he said. "In addition to all of the wraps for RCR's primary race cars and back-up cars, we also produce wraps and graphics for our eight haulers and fifteen 'show car' trailers, as well as the team's tool boxes and pit boxes."
According to Woodward, each of RCR's haulers—massive eighteen-wheeler trucks that transport the race cars to and from each event—require about 1,600 square feet of media to wrap.
"They provide plenty of additional 'real estate' for promoting the brands and products of our sponsors. It typically takes four of our technicians about two days to wrap one of the haulers," Woodward added. "We usually devote a two-man team and ten to twelve hours to complete a single thirty-foot-long show car trailer wrap, with each one requiring approximately 650 square feet of printed media."
The support vehicle wraps are in addition to all the race car wrap installations the RCR graphics crew performs during the racing season. During a typical week, the team will create a total of twenty-four car wraps, including wraps for RCR's high-profile race cars, back-up cars, and a "crash kit" for each vehicle.
This year's vehicle wrap duties will include the design and installation of a special Roland race car wrap for the NASCAR XFINITY Series race on February 27 in Atlanta, Ga. The No. 33 car, to be driven by rookie of the year contender Brandon Jones, will feature a wrap completely dedicated to the leading wide-format printer manufacturer, incorporating Roland's logo, colors and graphics.
To learn more about Roland DGA and Roland's complete product lineup, visit www.rolanddga.com.
For more information on Richard Childress Racing, visit www.rcrracing.com.