"Hungry? So are they!" These words, surrounded by images of families in need and a call for help, are being featured on full wraps for a light transit rail train and a bus in Phoenix, Arizona.
These graphics are part of the season-long "Summer of a Million Meals" campaign being put on by the United Food Bank, a statewide, non-profit organization that provides more than 61,000 meals for children, families, and seniors on a daily basis. Every dollar donated equals five meals.
BPGraphics, a grand format graphics specialist also based in Phoenix, proudly worked on this wrap project in partnership with Phoenix Valley Metro Light Rail. They printed and installed these wraps for the United Food Bank to help them raise awareness. The campaign started this past Memorial Day and is currently running all the way through to this Labor Day (September 2).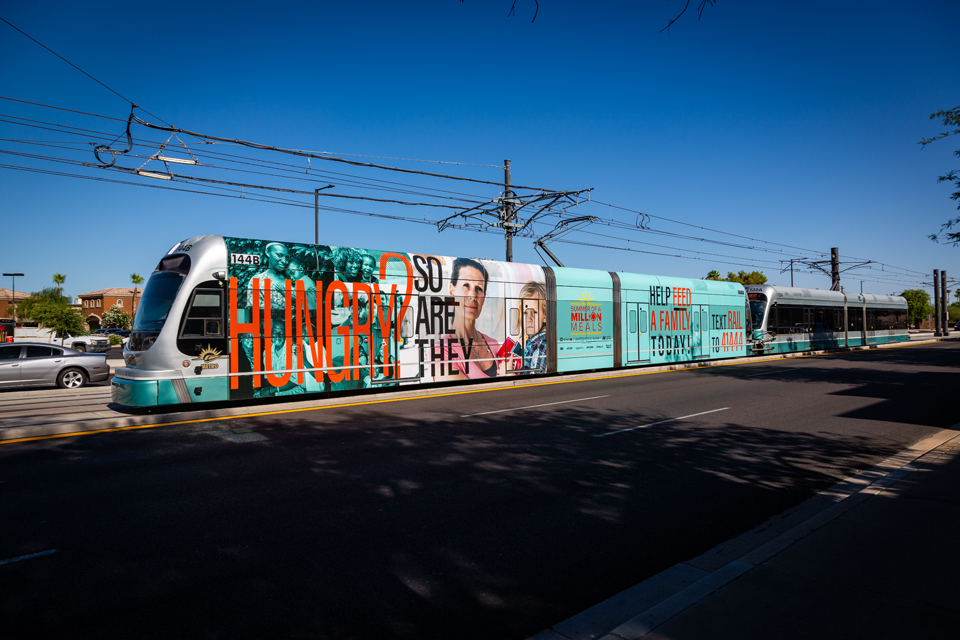 "We are installers for Phoenix Valley Metro Light Rail on their train wraps," says Ian Scott, owner of BPGraphics. "Last year, we did about just shy of a hundred wraps for them. We were thrilled to be part of a great community cause that we stand behind, and any chance we can be a part of something we believe in is always a bonus."
United Food Bank designed the images for this wrap campaign and provided these high-quality files to BPGraphics as 600- to 900-dpi PDFs at 1:12 scale.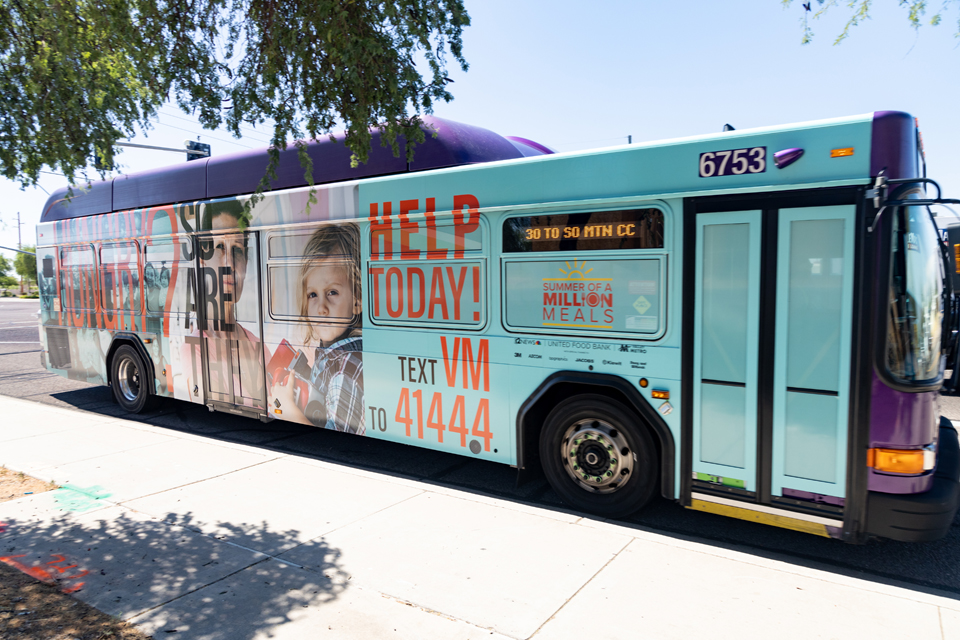 BPGraphics provided some guidance for wrap design layout. "If somebody wants to wrap a train, we share the templates that we've created with the client and their designer. It has all of the safe areas where they can lay their images," explains Nicholas Spade, marketing manager at BPGraphics. "When they send us a file, we'll go back through it and see if something doesn't look right or if it is going to fall on a joint and obstruct its view. We'll either make the move/change or ask them to do it."
The bus features the same artwork as the train. "We resized it and moved some things around, since the bus is obviously smaller and a different shape," says Spade.
There were a lot of companies involved in this awareness-raising campaign, and all the sponsor and partner logos are featured on the wraps. "A lot of people wanted to pitch in to make this campaign successful because of the organization benefitting from it," says BPGraphics Account Executive Kevin Murphy. "Everything was all donation."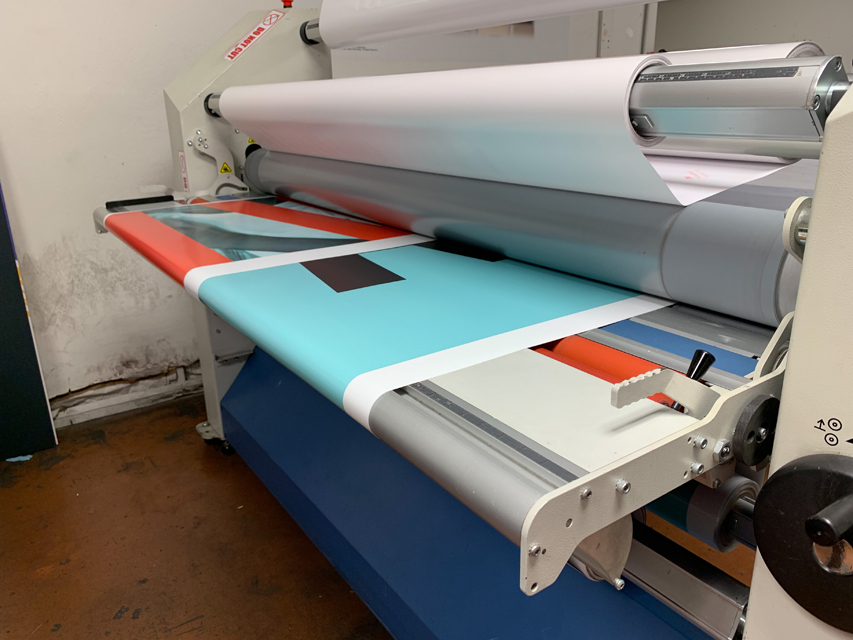 BPGraphics brought vinyl manufacturer 3M onboard as a partner to make these wraps happen quickly and on budget. "I reached out to 3M because it is such a great cause," says Murphy. "They agreed to donate the material it would take to wrap the bus and the train. We've wrapped enough of these trains to know how much material we were going to need for it."
BPGraphics ended up printing out about 2,000 square feet of self-adhesive 3M vinyl for the two cars of the ninety-one-foot-long train on their HP Scitex 3600 latex printer and 800 square feet for the bus.
The vehicle wraps were performed at the Metro Valley Light Rail and Bus facilities where the vehicles are housed. This was beneficial since this is a dust-free, climate-controlled environment. "The area we wrapped in is a general maintenance area, so it's kept comfortable for their employees to work in while doing repairs," says Murphy. "It's not outside in the heat—it's shaded, has roll-up doors, and is air-conditioned."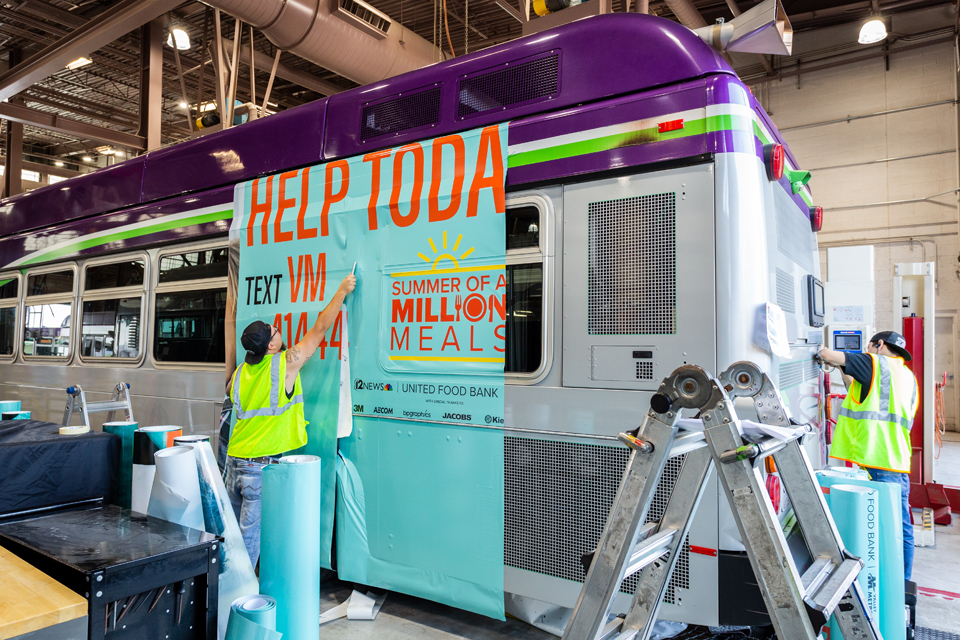 Four BPGraphics installers worked as a team to wrap the train and bus. The dry install took about five hours on the train and eight hours for the bus. "It usually takes us four or five hours to wrap a train, typically, depending on how many guys we send over there," says Murphy.
The two train cars were wrapped first and the bus was wrapped a week later. Each was out on its intended transit route the following day.
When it comes to wrapping a train versus a car or truck, Spade says that the latter forms of transportation are actually more difficult to perform. "[Automotive vehicles] are a little bit more difficult since they have different shapes, curves, and contours," he says, "whereas a train is pretty much just flat panels."
This was a quick turnaround project. According to Murphy, success on these types of projects always come down to scheduling, which can be a little complicated due to logistics. "We had to figure out when we can get into the facility to install the train and bus wraps," he says. "We can only be in there certain days of the week and specifically getting the right bus for the city that bus will be traveling through."
According to Valley Metro Light Rail officials, this project lined up well with their goal of connecting the community and the lives of Phoenix area residents. "We have partnered with our contractors to help make the program a success and raise awareness of the great services the United Food Bank provides across our state," they stated.
The wrapped bus also ended up being the star component of the "Stuff the Bus" event held by United Food Bank in the parking lot of a local Fry's Grocery on July 13 where donations were placed inside the vehicle in an effort to fill it up.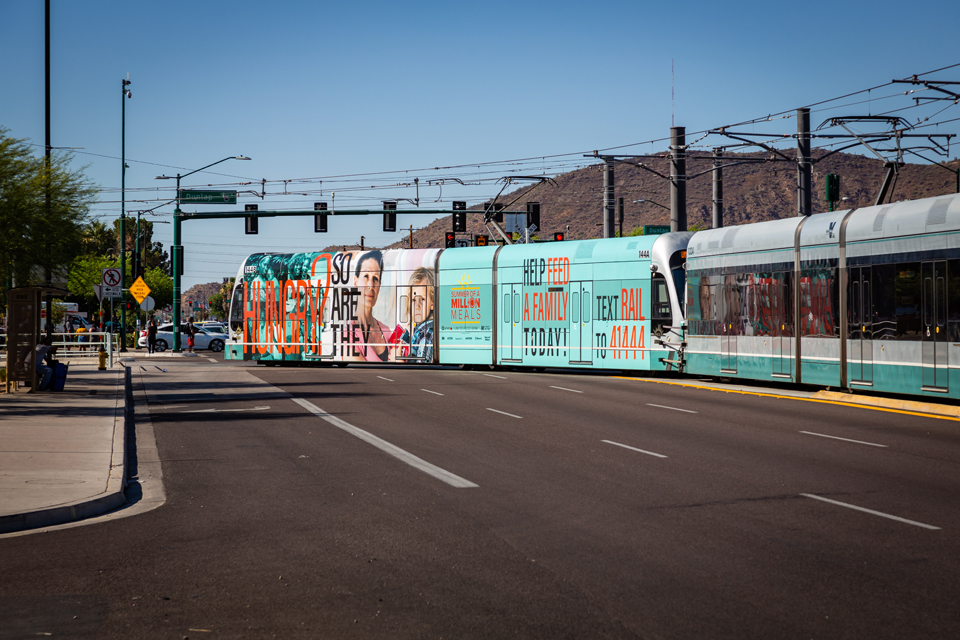 According to Murphy, this was a normal wrap project for them—but one that had a little more emotion invested in it. "This was a little more meaningful to us, and it was something we could get behind and that we were excited to do," he says. "We're thrilled to be a part of the far-reaching [United Food Bank] program in our state."
The wrapped vehicles have caught the attention of those in the Phoenix area and are a big contribution to the success of this fundraising campaign.
—Jeff Wooten
Note: This article appears in the August 2019 issue of Sign Builder Illustrated magazine.