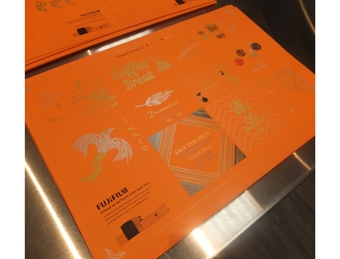 FUJIFILM North America Corporation, Graphic Systems Division recently hosted another in its series of successful Technology Summits at their Chicago Technology Center, detailing full-color, high speed digital Xerox models, enabling print service providers to integrate digital color printing into their current workflow. Invited guests gained in-depth knowledge of Xerox's line-up of presses, including the ColorPress 1000i, Versant 2100, and the iGen.
The Xerox® ColorPress 1000i press delivers sharp, rich, digitally mastered image quality. Offering a range of choices for all production environments, the ColorPress 1000i has flexible, cost-effective finishing options. It's easy to add a professional finish to complement the outstanding image quality and clear dry ink design.
Xerox metallic dry inks offer stunning effects and unique value by helping print service providers (PSPs) replace traditional foil stamping, offset metallic inks, and metallic papers with a cost-effective, digital alternative.
With this modular design, PSPs are able to add-on as their business grows.
The Automated Color Quality Suite of tools enables operators to output more high-quality jobs.
Utilizing Xerox low melt, EA (Emulsion Aggregation) Dry Ink, and new fusing technology, the ColorPress1000i offers wider color gamut that can produce vibrant images with smooth sweeps that command—and hold— attention.
Running all weights at rated speeds of 80 or 100 ppm, the ColorPress 1000i delivers one of the widest ranges of media handling, from a lightweight 55 gsm to a hefty 350 gsm.
"I am impressed with the production output of the Xerox ColorPress 1000i, the clear coat capabilities are a great selling point," said Don McDonald, production manager, Laplume & Sons Printing Co., Inc., Lawrence, Massachusetts. "Attending this Technology Summit has been a great eye-opener seeing all the technology that Fujifilm brings to the market, and how it can innovate our business."
The Xerox® Versant 2100, a mid-level digital color press with ultra HD resolution delivers extremely fine details with 1200-by-1200 dpi rendering, allowing users to take full advantage of the exceptional media latitude, utilizing labels, tabs, greeting cards, embossed stocks, durables/synthetics, polyesters, magnets and custom-designed media.
The Xerox iGen uses patented innovative technology and the power of automation to deliver this high-production digital press, allowing for impressive monthly volumes, and high definition image quality to capture more pages and profit.
Create offset and photo-quality images with consistent color from the first print to the last, accurately matched to GRACol standards, meeting today's color demands.
The new Xerox iGen5 series offers printers the ability to hit more critical brand colors with the additional fifth station for expanded gamut printing.
Educational breakout sessions included a lively discussion on insights into North American digital trends, led by Roger Gimbel, of Gimbel & Associates.
Another session featured ColorPath Sync, a cloud-based color management tool that aligns output devices to designated color targets. XMPie software was also featured. A software business unit of the Xerox Corporation, XMPie is a variable data publishing software that unites customer databases and creative content to help print service providers, marketing service firms, and small-to-medium sized businesses leverage customer data and create personalized, multi-phase campaigns that use today's communication vehicles including print, web, email, and mobile.
Additionally, Mark Geeves informed attendees about Color-Logic, a metallic and decorative effect color communication system. Geeves, director of sales & marketing at Color-Logic, touted the key benefits of their special effects for print, including its compatibility with offset, inkjet, flexo, digital, screen, and gravure printing processes.
As an added bonus, attendees also experienced wide format solutions including the Inca Onset R40i and Q40i; the Acuity Series of flatbeds including the Acuity F; the Acuity LED 1600; the Uvistar grand format press. Packaging innovations were highlighted by the Graphium, and for the flexo segment, the Flenex series, a new, innovative flexographic plate system, as well as the J Press 720S, a high-quality sheetfed inkjet press, along with the J Press 540W, a web-fed inkjet press with short-run and variable data capabilities. Finishing solutions were also showcased, featuring the Esko Kongsberg Cutting Table.
"When it comes to new technology, Fujifilm is the best," said Lamar Mendes, operations manager at Miami, Florida-based Sunshine Graphics.