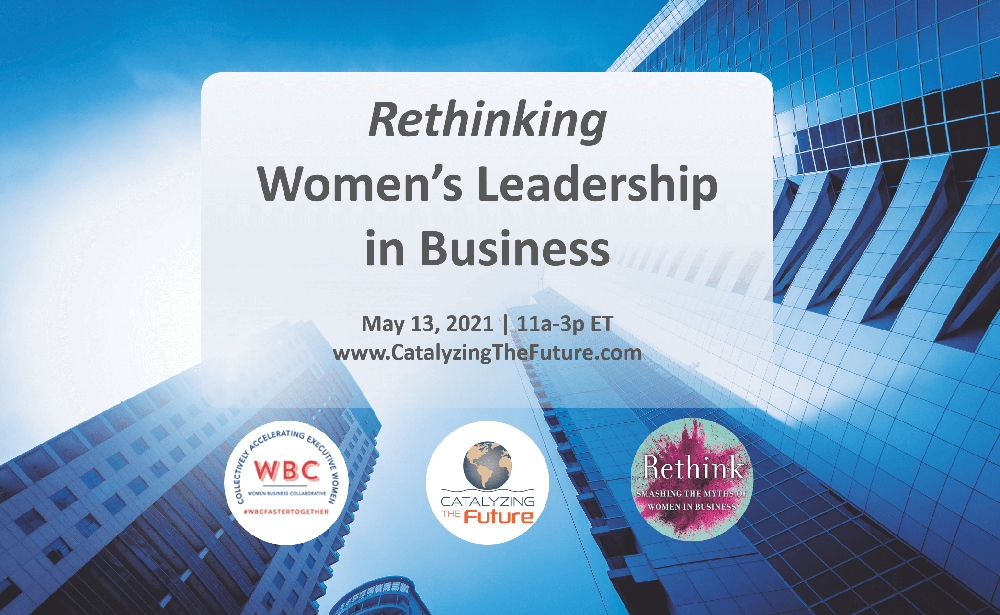 Join Catalyzing the Future, Women Business Collaborative, and Simon Associates Management Consultants on May 13, 2021 from 11:00 a.m.- 3:00 p.m. EST at the "Rethinking Women's Leadership in Business" global virtual event.
Leaders across industries will join in conversations, fueling a movement centered around transforming the roles of women in business, society, culture, and our collective attitudes. Women are rethinking their roles in business and society and leading the way forward.
Catalyzing the Future: Rethinking Women's Leadership in Business is a unique opportunity to build a true collaboration and communications platform with the Women Business Collaborative where we can share what we are doing to initiate and sustain major transformations with action and support.
This is a unique opportunity to discuss with the Women Business Collaborative's network champions the nine essential action initiatives, which will drive true equity in business:
More women CEOs, in the C-Suite and on Boards;
A demand for Diversity, Equity, and Inclusion (DE&I), gender pay and parity;
Increasing access to institutional capital, and capital for women entrepreneurs;
Driving more women as controllers of capital parity for women in underrepresented business sectors such as technology; and
Building the pipeline of women.
The questions we want to discuss and the insights to be shared:
How do we build true collaboration that accelerates and drives impact?
How do we create a new future by building a collective narrative?
How do we achieve true impact across all levels of society?
How can we amplify our story so that it becomes easy to share and live?
How can we turn each step into a major transformation, a sustainable movement?
The event will include a number of speakers, including two keynotes:
Joey Reiman, Founder & Chairman, Brand New World
Brand New World Studios Founder and Chairman Joey Reiman is known globally as the "King of Corporate Purpose." For the past twenty-five years, he has helped Fortune 500 companies discover, articulate and activate their company and brand purpose, revolutionizing the world of business. A best-selling author, TED speaker, and Professor at Emory University's renowned Goizueta Business School, Fast Company magazine recently named Reiman one of the 100 people who will change the way the world thinks. Most recently, Reiman served as Founder and Chairman of the global consultancy BrightHouse, a company devoted to bringing greater purpose to the business world.
Lisa Stone, Managing Director, WestRiver Group
Stone is a Managing Director at WestRiver Group (WRG), a Seattle-based venture, debt and equity company. A pioneer of social and digital media, prior to WRG, Stone was Co-Founder and CEO of BlogHer Inc., a first-of-its-kind social media publisher for women, later merged with SheKnows Media to build one of the largest women's lifestyle digital media companies. She also served as Chief Marketing Officer and Chief Strategy Officer of Ellevest, an investing and financial planning platform for women, and Vice President of Programming for Women.com, a Hearst Corporation-backed publishing network.
To see a full list of speakers and sessions, visit the website.
Don't miss this event! Register today.